Web statistics can be strangely compelling. Honestly, they can. Not convinced? What if you could:
See exactly how many people have been looking at your site
Drill down to see common paths people took through your site and where they tended to leave
See which areas of your homepage get clicked on most, which keywords people use to find you, and where the people who visit your website are located
You can get information about what real visitors are doing on your site. You can tell if a page is performing or not, and see exactly what difference a change makes. In short: you can stop guessing, and start making decisions based on facts.
For basic web statistics, you can download your site's log files. Most web hosting packages (including all of ours) give you access to these. They record all page accesses – the files look very unfriendly, but they contain basic information like which pages were viewed and when. You can use free software like analog to turn what's in your log files into an easy-to-read format.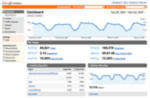 If you want more advanced statistics, accessible in an easier, more immediate way, then Google Analytics could be just what you need. It can show you all the information I listed above, and loads more. To see exactly what it can do, take a look at the tour over on Google's website.
Even though it's free, Google Analytics compares well with packages costing thousands of pounds. The catch? You have to add tracking code to every page on your website. If the thought of dealing with raw code makes you break out into a cold sweat, this is a daunting prospect. And even if it doesn't, adding the code to each page can be a laborious process.
That's why we recently launched a new service called Tagging for Google Analytics. It automates the whole process of putting Google Analytics on your site. When you use it, it adds the tracking code to every page. Automatically. A couple of clicks and you're done.
The service costs from just £1.49 a month. That gives you easy access to all your stats through a single 123-reg login – and ensures that all your existing and future web pages get tagged up correctly, so you know the statistics about your site are 100% accurate.
Find out more about Tagging for Google Analytics now.