123 Reg: the perfect partner to Britain's Self Starters
123 Reg is Britain's number one domain and web hosting company. For the past 20 years, we've been on a mission to make it simple for Britain's small business owners to succeed online. Today, that mission continues with the launch of our Self Starter campaign.
Some call them solopreneurs; others, small business owners. At 123 Reg, we call them Self Starters. Why? Because they are the ones with the self-belief to get started in business. They are the ones whose 'can and will do' attitude gives shoppers a reason to continue to love local.
"Britain's Self Starters are the beating heart of the British economy," explains Sara Rego, 123 Reg Managing Director. "Against a backdrop of increasing pressures, our Self Starters continue to defy the times with their innovation, creativity and drive."
The Self Starter Campaign is a celebration of this. It's our way of creating a shared platform for Britain's Self Starters to come together and to inspire others to follow in their footsteps.
In fact, we love Self Starters so much we're giving away prizes worth over £10,000 in prizes in the Self Starter Awards. To enter, and for more details on the prizes, head over to the Self Starter Awards website. You'll find the competition rules there too.
Meet the Self Starter
While each Self Starter is a specialist in their field, each walks a relatable path, trodden with the shared experiences of going solo. There are indeed things that only the Self Starter can get. The long days. The late nights. The long weekends. The sacrifices. The risk. The reward. Just ask 123 Reg Self Starter Joe Birchley of Making Wood Good. Alongside his carpentry craft, Joe is all too familiar with playing every role in his business from salesperson, to telephonist, accountant, cleaner and coffee maker.
"Self Starters like Joe already have enough on their plate," adds Sara. "One plate we feel they shouldn't have to worry about spinning is getting online and marketing their business.
"There is a long held belief that only businesses with deep pockets have the means to succeed online, but this shouldn't be the case. Business and digital go hand in hand. That's why 123 Reg has never been more passionate about levelling the land to ensure financial or digital skill gaps do not present a barrier to Britain's most hard-working people in taking their businesses to the next level online."
We've proudly been the perfect partner to the Self Starter for over two decades. From domain names, professional email, to website creation, digital marketing and beyond, getting your business online couldn't be easier!
The Self Starter Campaign builds on this momentum by casting an even brighter spotlight on these hard-working people. The move is part of 123 Reg's commitment to help more Self Starters raise awareness of their businesses, products and services, providing insights from their personal journeys to guide others on their own.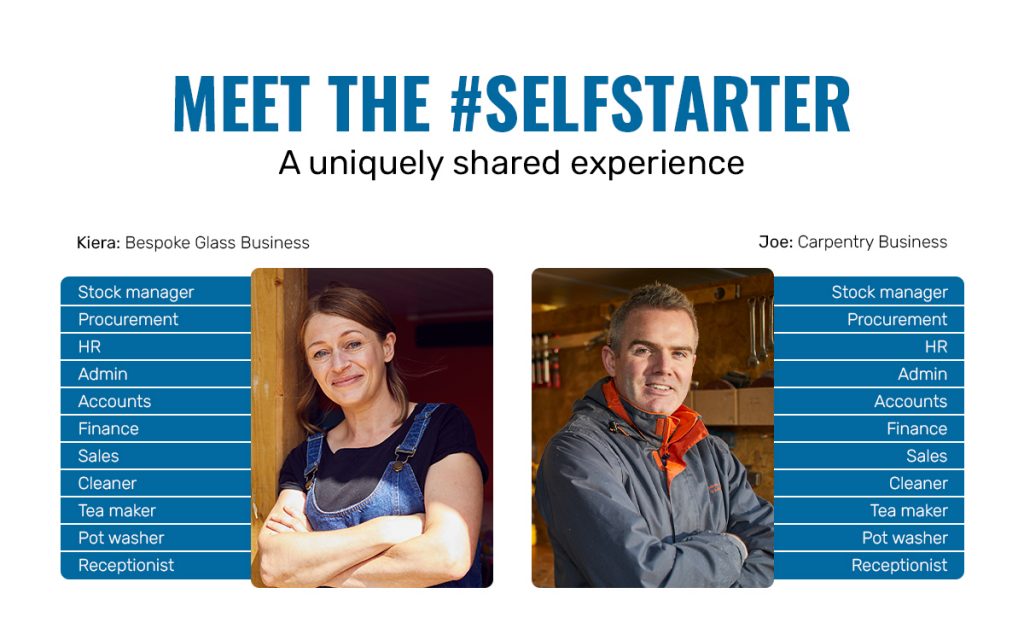 How can you take part?
Self Starter will run across our tip-filled blog and social platforms where experts from 123 Reg, Self Starters, business experts and influencers, will be sharing tips and insights in the form of engaging content, graphics and videos.
So, be sure to follow our Facebook, LinkedIn, Twitter, Instagram and YouTube pages.
And, later this year, we're set to launch 123 Reg's inaugural business awards, The Self Starters.
With a cash prize, products, mentorship, free exposure and more on offer, The Self Starters are open to all 123 Reg customers. So, whether you're just starting out with an idea and have locked in your domain, a one-person band with a professional email address from us or an SMB in full swing with a 123 Reg website – wherever you are on your journey – The Self Starters are here to empower you to take the next steps.
If you're interested in entering, follow us on social media and keep an eye on our pages over the coming months.
Don't miss this exciting opportunity for you – or somebody you know – to win this potentially life-changing prize.
Meet the Self Starters succeeding online
They might be small business owners but they think big. And the years spent honing their craft takes place within the foothills of mountainous paperwork. Speak to Joe of Making Wood Good. The carpentry specialist is now carving his own business space online.
Meet Jenny at D for Dog, who took the lead in online business over 15 years ago, much like Liz at Babye, who set up her online store when internet sales were in their infancy. Take inspiration from Albert King Wood Carvings who embraces technology and its value to running a business, or Dave at Intuition Driver Training who chose 123 Reg on the road to online success.
Here are a few reasons why Self Starters like Joe, Jenny, Liz, Albert and Dave choose 123 Reg:
We're the UK's #1 provider, with over 20 years' experience and more than 1 million UK websites connected to our services.
We're beginner-friendly, so it doesn't matter whether you're a tech whiz or starting out for the first time.
We have everything in one place, from domains and websites, to hosting, VPS, WordPress and marketing tools.
We're here for you, so should you need any help, our expert Support team are available every day of the week via telephone and live chat.
We've offered great value since 2000, and although a lot has changed since we first started, our commitment to offering great products at affordable prices hasn't.
We shout about and promote many of our customers' products online through organic and paid media.
123 Reg empowers the Self Starters by making it simple to succeed online. With products at affordable prices and fantastic support to help you every step of the way, it really is as easy as 1, 2, 3.  Getting your business online couldn't be easier! This means you'll free-up more time and money to do what you do best.
Let's get on(line) with the job…