This summer we're on the road, or at least our advertising is. We've teamed up with a set of taxi cab drivers in Leeds and in London to spread the word about 123-reg and in particular the great value of .co.uk domain names.
It's not all about advertising though, we are trying to make it fun and get our fantastic customers involved too. Over on our other social channels, especially Facebook we are running a series of taxi-related competitions with lots of giveaways too. For example, if you spot one of our liveried cabs, take a photo and send it to us to be in with a chance to win.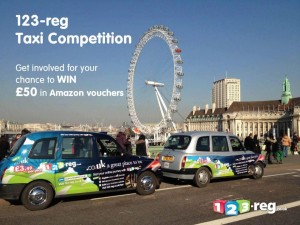 We've also got our taxi quiz up and running so test yourself and see if you have the knowledge.
There's plenty more to come, so make sure you keep an eye out for the 123-reg cabs in London and Leeds and also keep an eye out for chances to win and opportunties to get involved too.