How domain names get made
By
John
- August 16, 2012
With ICANN's recent liberalisation of the domain name market, there will soon be lots of new domain name extensions to choose from. Good news if you're aching for a domain name ending in .transformers or .website, which are just two of the many new domains proposed.
As this new era of domain names dawns, it seems a good moment to look into just how new domain names come into being. Who creates them? And how long do they take to set up?
It depends on the kind of domain
Brand new domain name extensions don't just spring into life overnight. A lot of planning and preparation goes into a domain name launch, from technical work to manage registrations to a marketing push so potential buyers know about the new domain.
The exact process for creating a new domain depends on what sort of domain name extension it is:
If it's a country code domain, like .uk (the United Kingdom), .in (India) or .be (Belgium), it'll be administered by that country's government. In practice, the government usually appoints a separate organisation, which has the knowledge to do this effectively. In the UK, that organisation is Nominet.
If it's another domain name, like .info, .xxx or .org, it'll be handled by ICANN, the organisation with overall control of the domain name system. For most new domains now, ICANN's role is to approve new extensions and assign them to an organisation which has applied to  handle the launch and registrations.
Once a domain name has been approved, the organisation responsible for it must put in place systems to handle all the complicated technical stuff that has to happen in the background. This means creating a robust registration system (so people can actually buy a domain), handling expiry dates, renewals and ensuring that everything works properly.
Making a domain name available
Now, let's assume everything's in place and the domain name is about to hit the market. Typically, there are three stages to the registration process:
Sunrise. This stage gives trademark holders a chance to register their domain names first. The idea is that they get the chance to protect their brand early. Often, the sunrise period will allow trademark holders to block registration of domains containing their trademark. This means they don't have to worry about remembering to renew and manage lots of domains, but still ensures nobody else can use them.
Landrush. At this point, it's possible for anyone to bid for a domain name. The process is different for different domains, but what usually happens is that you can apply to register a domain name. At the end of the landrush period, domain names are allocated appropriately. If there's more than one applicant for a domain name, an auction is held. Landrush enables you to pay a bit more to secure particularly attractive domains.
General availability. This is where the new domains become available on an ongoing basis. Anyone can take their pick of remaining domains, and it's first-come-first-served. If the domain you want is available, you can register it there and then.
Not every domain extension release follows this process exactly. But most of them follow a similar pattern.
What if you miss out?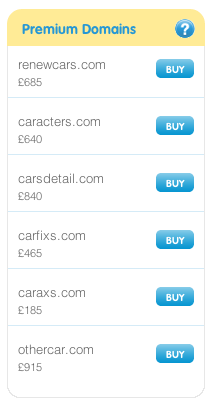 If you have your eyes on a particular new domain name, get in there early when it's released – especially if you think there'll be competition.
Landrush is your best chance to secure the name, although you may have to pay more than at general availability.
If you miss out altogether and can't find any alternatives you like, you can always source a domain name in other ways. There's a thriving secondary domain name market, where individuals and businesses buy and sell domain names.
In fact, we've recently introduced a premium domain registration service, which gives you access to many domain names being sold on the secondary market. Just look for the premium domains box to the right of your domain name search results (see image).
Two-letter domains
As a general rule, the fewer letters in your domain name, the more memorable and easy to type it is.
Two-letter domains are like gold dust. They're hard to find and only a few companies – like O2 and BT – have really been able to use them.
But now you can register two letter domain names ending in .uk.com – and they cost from just £199. To see what's available, just search for a two-letter domain using our search tool.
Looking for a domain name right now? See the cheap domains we offer.
Want to know more about domains? Feel free to check out our comprehensive domain name guide.