Search engine optimisation (SEO) continues to survive and thrive, despite being proclaimed dead over and over again in the past decade, and despite a countless number of algorithm updates.
It's safe to say that in 2017 SEO is not only here to stay, but it's also evolving in an exciting direction. From optimising content for conversational and voice search to the continuing rise of mobile and user centred design, there's definitely lots we can all look forward to.
So if you want to stay on top, here are some insights into the future of search and what we expect to see over the next 12 months.
And if you're worried about the health of your site, then you can use the free 123 Reg Website Checker to get a report on everything from site speed to backlinks – all important SEO factors.
So, what does the future of SEO look like?
Here are the five key SEO trends that are likely to prevail in 2017:
1. User experience (UX)
UX aims to provide users on a site with a great experience where they can easily browse around, find the relevant and quality content they're looking for, and the right navigation to guide them to the next steps in an effortless way.
But here's the thing: you can have an amazing site but if it isn't properly optimised and doesn't perform well in search engines, no one will see it. That's why SEO and UX need to work together, not separately.
SEO helps you increase your site's visibility in the search engines, which can result in more traffic to your site. But it's UX that will determine if you can keep visitors on the site and entice them to take the next step – whether that is to subscribe to an email list, to buy something or to get in touch with you.
Put simply, people have to be able to find you online but once they do they also need to be engaged and compelled to take action. Which is why SEO and UX working together is paramount to your site's long-term success. Here's how else UX blends with SEO to improve a site's performance.
So, if you want your site to be in tip-top shape in 2017, the following should be on your priority list:
High quality, purposeful and relevant content
Easy to use structure and simple and effective navigation
Optimised text and images to please both users and search engines
Appealing web design that focuses on accessibility
Clear and enticing call-to-action so users know what to do next.
2. Content and backlinks
In 2017 we'll see an increasing focus on content quality and user engagement in that content. With Penguin now part of the main algorithm, building valuable links that truly benefit your site will and should only be done through relevant, informative content that serves your audience.
While content is and will always be king, forget about pushing out tens of blog posts like your business depends on it. It's not the amount of content that'll get you traffic and exposure, but the quality and relevance. In 2017, the only links that'll move the needle will be those great links that users actually click on, read and recommend to others.
So make sure to revise your content strategy for the year to come, and create content that is able to attract natural backlinks. The only way you can do that is by getting creative and educated on what quality content looks like and figuring out which formats works best on the different channels you're using – blog, social media networks, email, etc.
Useful resources:
Read our post on what Googles considers to be "quality content" and how to create it
Learn how to get backlinks to your small business website
3. Mobile index, site speed and AMP
Mobile friendliness has been a huge topic this year, with Google encouraging site owners to go mobile or risk being left behind.
With more searches happening on mobile now than on desktop, Google has decided to have a separate index for mobile and for desktop. So they're rolling out a new mobile-first index, which means that you will see different ranks for mobile and desktop. You can learn more about Google's mobile-first index from this article.
This is a major change coming in 2017, which makes having a responsive website more important than ever. A responsive site not only displays properly on all devices, but the content is also the same on a page-by-page basis from your desktop to your mobile site. However, if you have a mobile site that's separate from your desktop site, that's also ok.
One other thing you should be paying attention to is the speed of your mobile pages, as this will be a ranking factor in Google's next mobile friendly update, as confirmed by Google Webmaster Trends Analyst Gary Illyes.
This is no massive surprise, as Google's introduction of Accelerated Mobile Pages (AMP) shows its concern for page speed on mobile. If this is the first time you've heard of AMP, their aim is to improve the performance of the mobile web with stripped-down versions of web pages.
If you think about it, it makes sense. Sites that take too long to load receive less traffic and have a higher bounce rate as users lose patience and leave quickly. Whereas, if the loading time is two-three seconds, users are more likely to wait around. With AMP, Google wants to make user experience and content-first essential in 2017.
So here's what to focus on 2017:
Make your site responsive
Ensure your mobile pages load quickly.
Implement AMP on your site to speed up your site's performance. Check out this guide that explains how to get started with AMP.
4. Schema markup and instant answers
If you haven't yet tried to add rich snippets to your listings in order to grab users' attention in the search results, now's the time to try it.

You can do this by adding schema markup to your pages. Schema markup helps Google understand the elements on your page by better describing the content on a page, which can result in better visibility for your business in the search results.
You can use schema markup to add lots of things, from your business information, like address or phone number, to testimonials and ratings from your customers. Just make sure your listing includes enticing title and meta description to increase the chances of users clicking through to your site.
Here are some useful resources to help you get started with schema markups:
But what if you want your site to show up in the quick answers box at the top of the search results page, like in this example?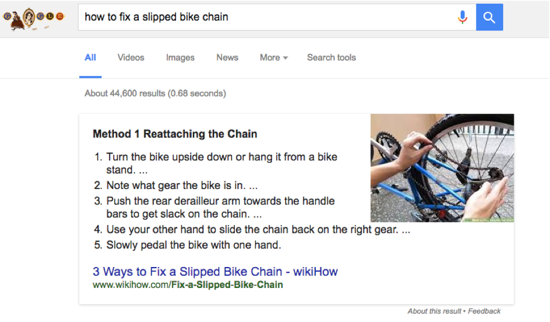 When running a search on Google for "how to fix a slipped bike chain", the above instant answers box appeared as the first result, with a link to the source.
With users constantly searching for answers on Google (and more using voice search to ask questions), this is something you should take advantage of to increase your site's visibility in the search engines. No matter what business you're in, potential customers will definitely have questions so make sure you have the answers they need.
To have your content featured in an answer box you'll need to work on creating useful content that answers your prospects frequently asked questions. Search Engine Land has a great post with more info on how to optimise for Google's quick answer box.
5. Voice search
Voice search is set to dominate in 2017 and it's no surprise. Because why type in a search query when you can just use your voice to get the information you need? It's so much easier. No wonder sales of Amazon Echo and Google Home type devices are expected to go from 1.8 million this year to 15.1 million in 2020.
But what does this mean for your small business? And where does that leave SEO?
It means that:
You need to incorporate voice search strategy into your site, because voice search is where more and more users are headed.
Your content needs to be extremely useful and written in a conversational tone.
The approach to content will shift toward providing the best answer to users. Because when you type, you might enter something like "best flat white London" into the search box. But when you speak, you're more likely to ask the complete question, "Where's the best flat white in London?" This holds true with voice search queries as well.
So how do you optimise for voice search?
Focus on long-tail, natural phrases used in voice search. This post should give you a better idea of the types of queries that you could use to optimise for voice search.
Use schema markup to help search engines understand the context of your content
Add FAQs pages to provide users and search engines with quick answers to popular questions.
Read our post to learn more about what to focus on when it comes to optimisation strategies for voice search.
Did we miss anything?
Are there any anticipated SEO trends you believe we missed? We'd love to hear your thoughts on the subject so tweet us @123reg.