What to expect from SEO in 2018
When it comes to Google, change is the only constant. All the design and algorithm changes over the years have had a significant impact on organic rankings, and the reactions aren't always positive.
Now paid ads are becoming increasingly subtle and taking up organic real estate while organic results are being pushed further down the search engine results pages (SERPs). It's unfortunate, yes, especially if you've already invested lots of time and resources into properly optimising your website for search engines.
So now the question is: can you still get organic traffic in 2018?
The short answer is yes.
For the long answer you'll need to read this article that'll explain why and how organic results are being pushed down in the SERPs, and what the workarounds are that can be applied to stay ahead of the game and still get organic traffic in 2018.
What's pushing organic results down in the SERPs?
Paid ads
Over the last two years, Google's paid ads have gone through lots of changes: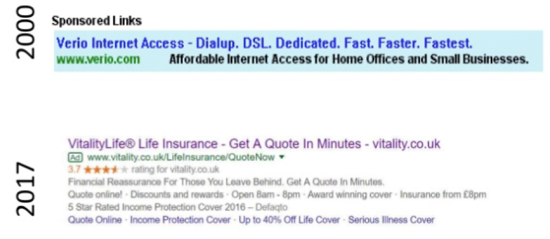 It also introduced ad extensions, allowing businesses to highlight more useful information such as links, ratings and contact information.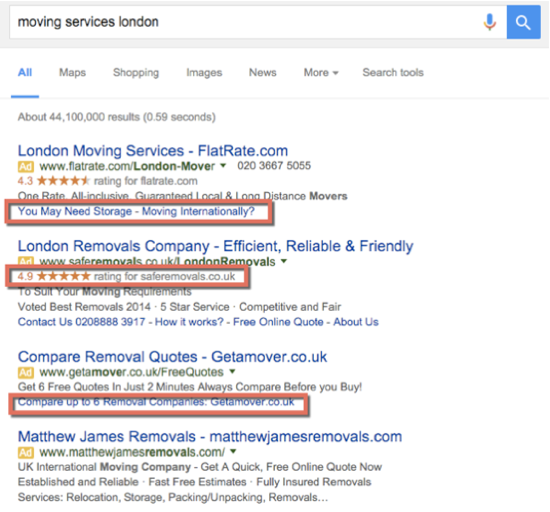 The ad headlines increased in size
It brought more ad type diversity by introducing dynamic ads
Google also added local search ads
Plus, it introduced promoted pins on its Map to help businesses drive more offline foot traffic and conversions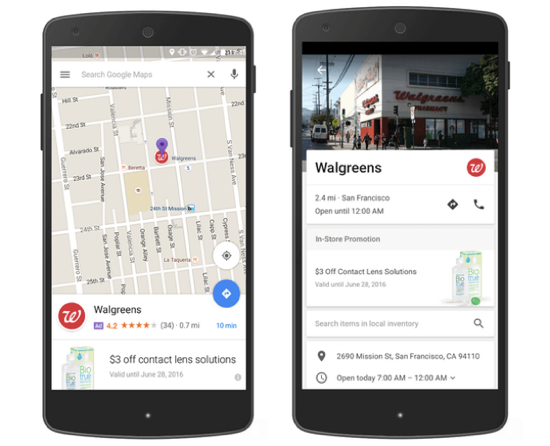 As you can see, the changes are significant.
So, what's the problem? It's not just that ads now take up more screen real estate, but they're also becoming increasingly subtle. So subtle that the differences between paid and organic is almost unnoticeable to the regular user.
Just take a look at how Google's search results page changed from 2010 to 2014: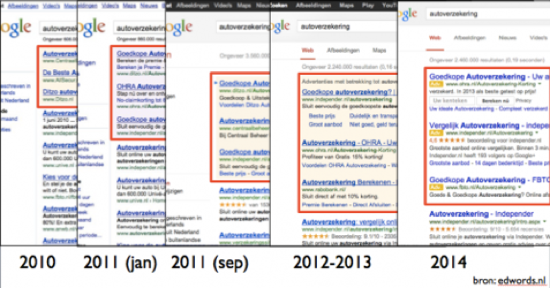 And here's how it looks now: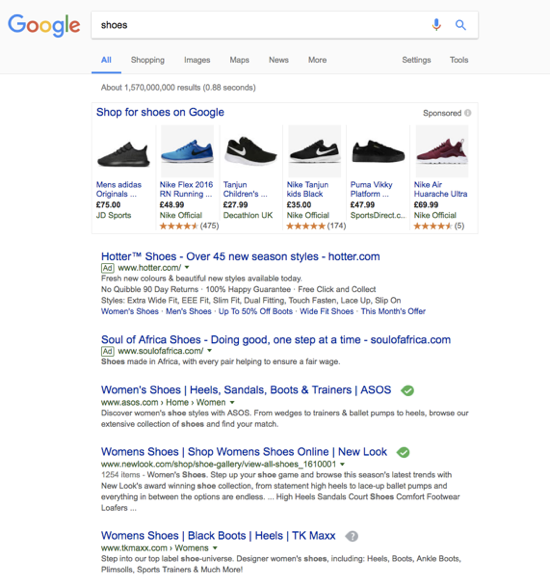 So what happens when it's less obvious that an ad is an ad? Paid ads get more clicks, and organic results fewer.
In fact, in an article for Moz, an SEO agency owner reported a 25% drop in clicks on organic search results on desktop, and 55% on mobile compared to two years ago. He also added that "paid ads are likely now earning nearly the same percentage of clicks as organic results – a staggering change from most of the history of Google."
Google Shopping
Google Shopping also went through a variety of changes. Here is how it used to look and how it looks now so you get an idea of the changes: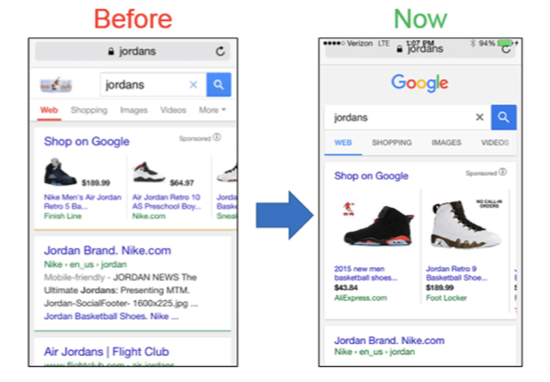 Some of the most significant changes include:
Product listing ads on top of regular ads
Product listing ads on the right-side bar
Dedicated shopping pages
Special offers in shopping ads
Local inventory ads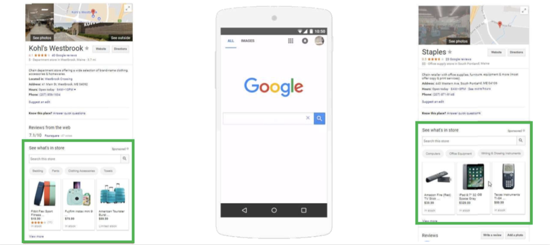 Shopping ads become scrollable. The original format for shopping ads included 12 product listing ads (PLA) displayed in a box on the right side or at the top of the main Google SERP.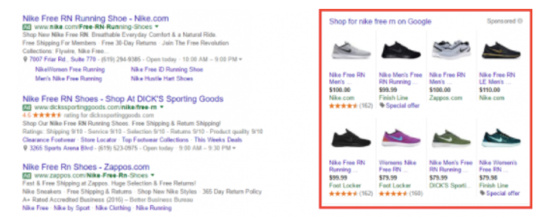 Now there are as many as 18 PLA that users can scroll through: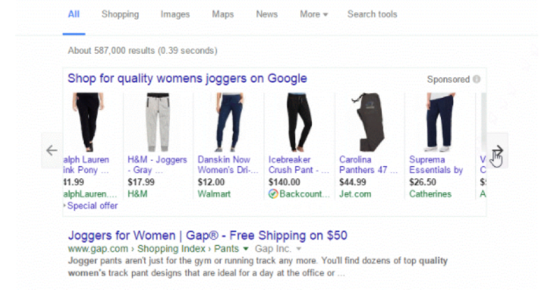 Purchases on Google, a feature that allows users to buy products directly from the SERPs.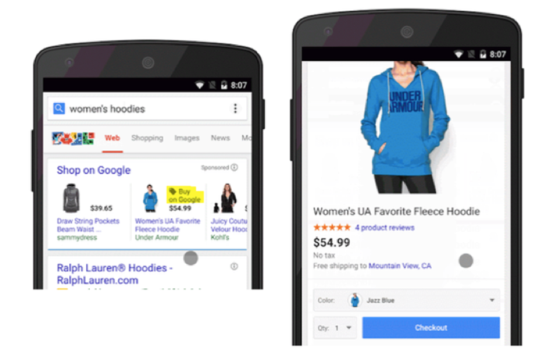 If you'd like to learn more about these changes, make sure to check out this slideshow on the evolution of paid media from SearchLove's 2017 conference in London.
Social
Google's changes to the SERPs are meant to improve user experience (UX) and help to provide the most relevant results and information to its users. That's probably also why Google teamed up with Twitter to display real-time content in the search engine results.
This way, anyone who wants to find relevant tweets on a particular topic can just Google them. So, for example, if you do a quick search for #goldenglobes2018, this is what shows up: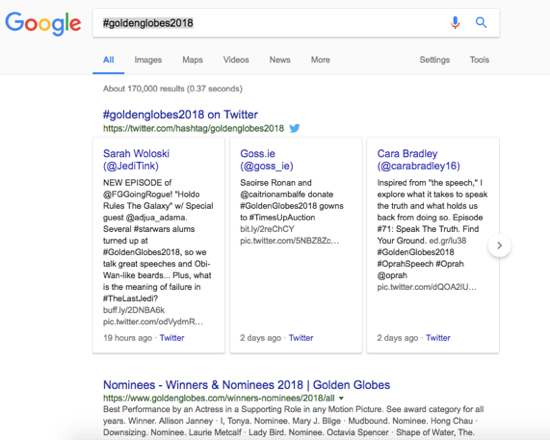 The downside though is that in some cases the organic results get pushed down below the ads, like in this example: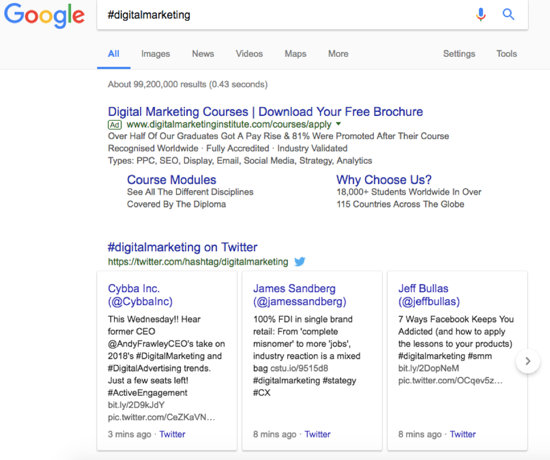 Google's new card-based layout
Yet another change that is pushing organic results down is the card-based layout that Google is experimenting with in the SERPs. With this layout, each result is placed in its own separate box.
This isn't something new as Google has also experimented with it back in 2013 but it didn't last long. Search Engine Watch also published an article in 2016 where it showed how all the search results appeared to be in a card format.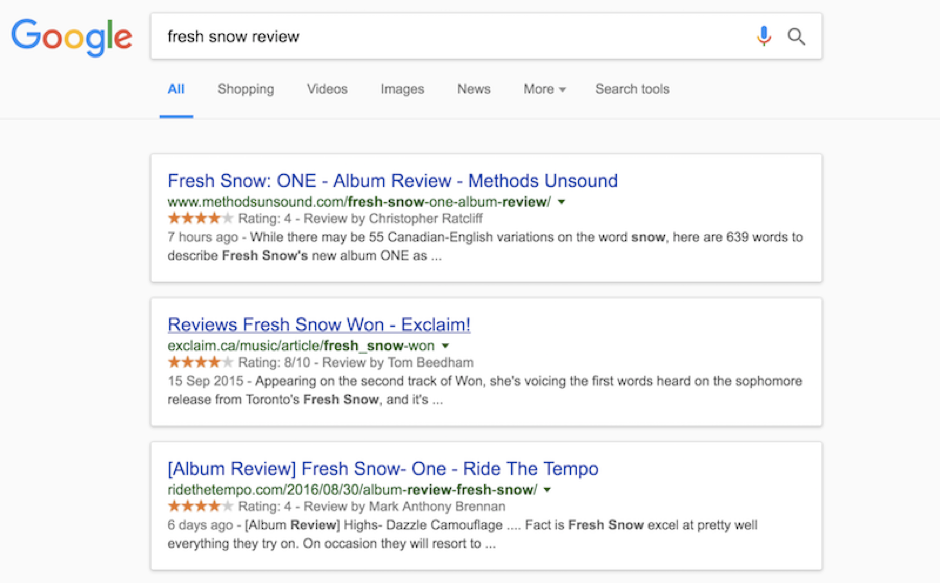 Now this seems to be popping back in the SERPs.
While the idea is probably to show off a cleaner SERP with all the results neat and organised, the downside is that this is adding more space between the cards, thus pushing organic results further down the page.
Expanding the Google carousel layout
If you're not familiar with the Google carousel layout, here's how it looks now:

While this layout has mainly been reserved for non-commercial queries like books, music, movies, and so on, that may be changing to include commercial queries as well.
Here's what shows up when searching for "best accounting software":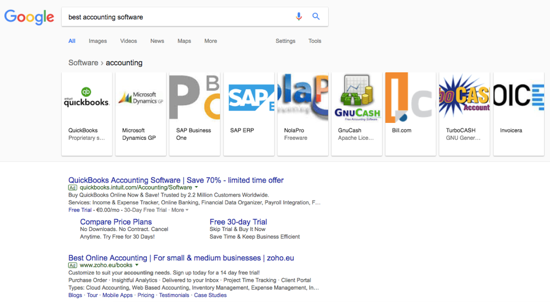 As you can see, the competition is fierce and the organic results are nowhere to be found above the fold.
Related questions box
You may have noticed an expanding grid box that appears in the search results for some queries. This box is also known as "People also ask" and it includes a series of questions related to the query.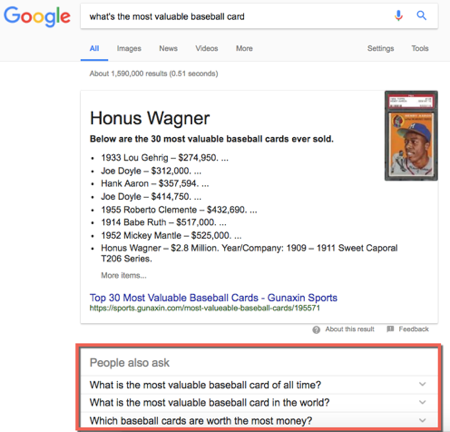 When you click one of the questions, it expands to show a brief answer and also a link for continued reading.
This is a great opportunity for website owners to increase their visibility in the search results by answering users' questions.
Mobile
Here is an overview of what's been happening in mobile search:
New mobile extensions. Google has released two new ad extensions that are only available on mobile devices: promotion and message.
With promotion extensions, you can add a price tag icon below the ad and highlight a special offer or a sale on your website. You can also specify other details about your promotion, like whether it's a holiday or a clearance offer, when it ends, minimum purchase value, and more.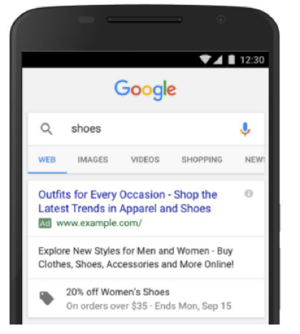 With message extensions, you can allow users to send you a text message right from the mobile search results.
Accelerated mobile pages (AMP). If this is the first time you've heard of AMP, their aim is to improve the performance of the mobile web with stripped-down versions of web pages. In fact, Google claimed that display ads on AMP load up five times faster.
Vertical-focused ads. Last year, Google introduced new mobile ad types available for specific industry verticals. For example, salons and spas can allow users to book an appointment using the "Reserve with" Google feature as well as via search and maps.
AdMob revamp. In 2017 Google also announced a complete revamp of AdMob, its in-app ad platform. The platform was rebuilt entirely to make it easier to use, and to also provide more data and insights into its users' behaviour.
Google tests fewer organic results on mobile. It seems that Google is testing the mobile search interface and showing fewer organic results than ever. According to Search Engine Roundtable, mobile search results include "mostly two organic listings, sometimes up to five but never more".
Why is this all happening?
The search engine giant has a plan: to switch to a mobile-first index. So they've been taking steps in that direction by shifting towards a very mobile-centric SERP.
It makes sense. With the increasing number of mobile users, Google no longer wants to provide two different experiences on desktop and mobile. Instead, they're looking to unify the way users experience results across all devices.
What Google is aiming for is to become a hub of instant answers, and to also remove the need for users to ever leave the results page.
Another motivator for unifying the SERP is the fact that an increasing number of people now own and use multiple devices at the same time, as opposed to exclusively using mobile or desktop. So it makes sense for Google to want to offer the same experience across all devices.
This way, when you're looking up a conference or a travel destination on your computer at work, on your tablet at home or on your phone in the tube, you'll have the same experience.
What is the impact of all of this?
There are lots of changes and each has an impact on the SERPs and your business' visibility in the search results.
Here is what we know so far:
More space for ads means less space and visibility for organic listings, which are being pushed down in the SERPs.
Better ad extensions and features mean that users can find what they're looking quicker, without having to scroll down.
With scrollable ads, Google can now offer more results in the same screen space.
The shopping options make users' choices less time consuming as they'll no longer need to browse through organic listings.
The presence of the local map provides quick options without having to visit individual websites.
The knowledge graph can provide answers directly into the SERPs so users no longer need to go to various sites to get answers.
In some cases, position 0 provides a complete answer so there's no need for users to click-through to a website to get more information.
AMP provides a faster experience but from Google's servers.
Google has already dropped one organic listing in the local 3-pack and replaced it with a local ad. Will all the listings in the local pack be replaced with ads? We wouldn't be surprised if that were to happen.
The SERP's layout change also presents a problem. With the shift from the traditional "ten blue links" SERP of the old days to the dynamic and visually appealing SERP of today, it makes the task of optimising content challenging. Site owners must now consider all the different types of content and how each will rank in different sections of the SERPs on different devices and for users in different locations.
Yes, Google is constantly changing. And that's also changing users' behaviour online.
In 2005 and again in 2014 Mediative performed eye tracking studies to see how users view Google search results. These were their results: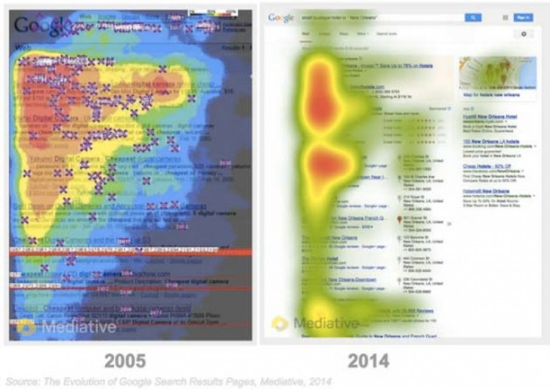 Last year, ConversionXL also did an eye tracking experiment of their own to see how users' behaviour has changed in 2017. Here is what they saw: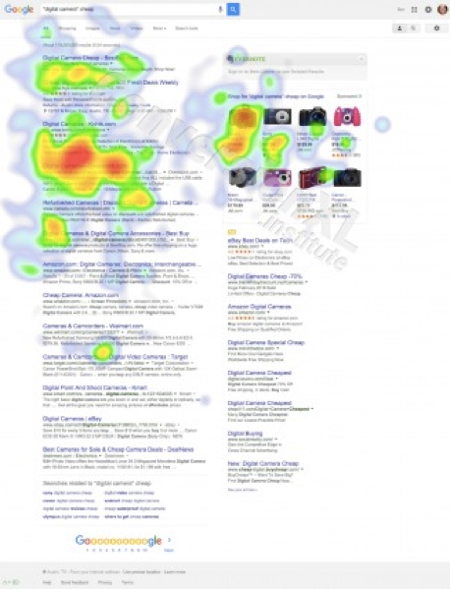 They discovered that users look at ads right away, especially now that they're so cleverly designed to look like any other search result. However, when they realise the result is actually an ad, they leave it behind and move on to organic search results.
How can you still get SEO traffic in 2018 with the ever-shrinking organic listings?
Even with all these changes, there are still things you can do to continue getting organic traffic from Google's SERPs.
Here are the top three we recommend focusing on:
1. Improve your local SEO
When prospects are looking to buy a product or service and they run a search online, Google usually returns a map with local business listings that is displayed below paid ads.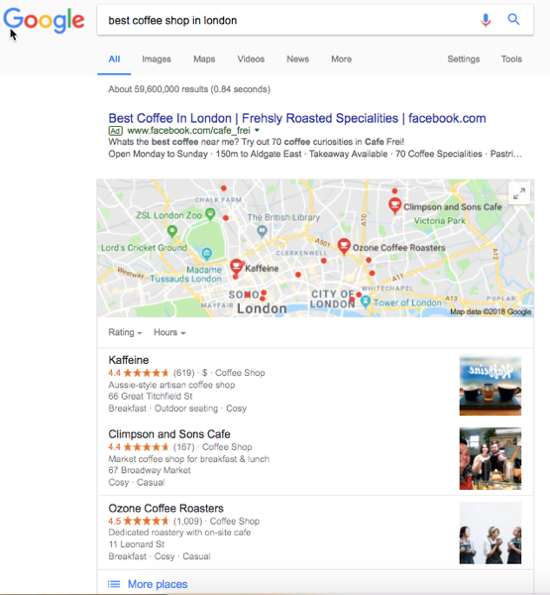 These listings include information like address, opening hours, website links, customer ratings, links to reviews and more.
If you want your website to be eligible for these rankings, you'll need to create your own Google My Business page and fill it with up-to-date information about your local business. It's your best chance to use local SEO and put your business on the map so potential customers find you. For more information, check out our step-by-step guide on how to get your business to appear on Google Maps.
In addition to setting up your Google My Business page, you should also create business profiles on relevant and authority directory sites like Yelp or Angie's list. Just make sure that your business information is accurate and consistent across the web. That includes your website and any social media sites and local directories you're on.
If this sounds like too much work, you can always use a service like Local Listing from 123 Reg, which makes it quick and easy to submit your details to relevant directories and keep them up-to-date with the click of a button. In addition, you can use it to monitor any reviews you receive on these sites so you also have a hassle-free way to keep track of your reputation online.
2. Create more long-tail content
Imagine it's the middle of the night and you find yourself with a leaky toilet tank. If you don't know much about leaky toilets, you probably grab your phone and run a search on Google for "emergency plumber". Google then returns four ads at the top, then a map with nearby businesses. You've got to do some scrolling to find your first organic listing.
On the other hand, people who are handy around the house will probably run a search like "how to fix a leaky toilet tank". So instead of trying to find a plumber, they're looking for answers on how to do it themselves. In this case, Google returns an ad-free page filled with organic search results: articles, guides, videos, Q&As.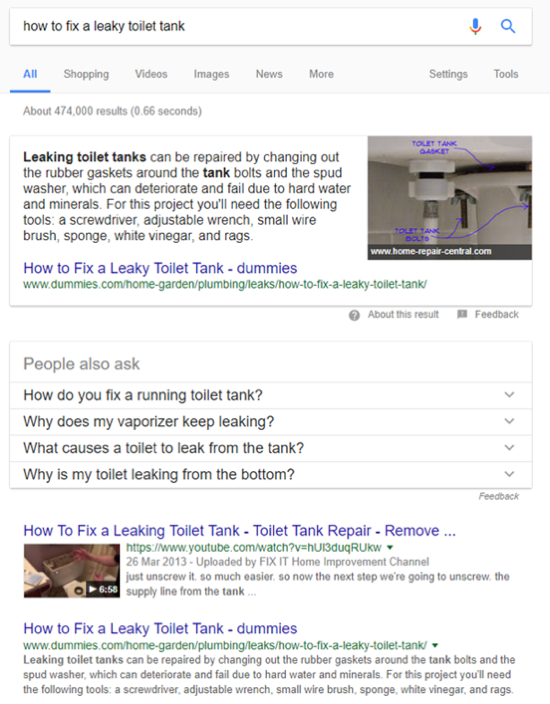 So what does this all mean?
It means that if you want to increase your visibility in the organic search results you'll need to create useful content that answers your prospects' questions. So, create blog posts, guides, videos where you share tips and information that are helpful to your audience. And do it often as producing a steady stream of fresh, in-depth material is crucial for remaining relevant and helping you to reach new customers.
When creating your content, make sure to optimise it using relevant long-tail keywords. Why? Because it's how people search the internet to ensure they find exactly what they're looking for. In fact, long-tail keywords account for 70% of all web searches.
Long-tail keywords are descriptive and specific, which means you'll have a better chance at generating more organic traffic and attracting the right users who are interested in your content.
In addition to optimising content using long-tail keywords, you should also make use of structured data. Structured data allows you to enhance your search listings and make them stand out in the SERPs.
Here's a simple example: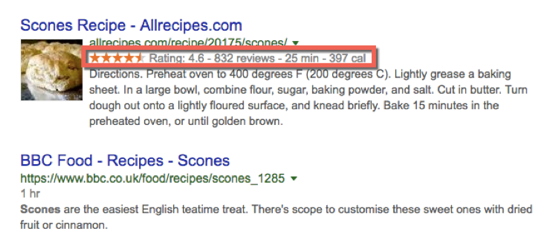 With so much competition and the increasing challenge to attract organic traffic, you can't ignore this opportunity to stand out.
The following articles offer lots of great tips and information about structured data and how to put it into practice to catch users' attention in the SERPs:
3. Technical SEO and UX
In addition to local SEO and long-form content, you should also take care of the technical aspects of your website to increase visibility in the search results.
The following are critical to your site's success in the SERPs:
Speed. Since speed is a ranking signal, you know it's important. And not just to rank higher but also to keep visitors from abandoning your site and moving on to your competitors. How fast does a site need to load? Google expects pages to load in under three seconds so make sure yours do too. In this article you'll find out more about why speed is important and ways to speed up your website.
Mobile-friendliness. With over half of google search coming from mobile devices, the impeding mobile-first index, and mobile-friendliness being a ranking factor, you need to ensure your website is mobile-friendly. Read this article for advice on how to develop a mobile-friendly website.
Usability. This is super-important for SEO and it also helps keep your visitors happy. Great user experience refers to a site that is organised and simple to navigate so visitors can move between pages with ease and quickly find the information they're looking for.
Wrapping up
If you're concerned about losing visibility in Google's organic search results, you're not alone. But here's the thing: while the recent changes may cause a drop in organic traffic, if you focus on what's important and continue to work on optimising your site for organic SEO, you can be sure your efforts will pay off in the long run.