Five pages every small business website should have
If you're in the early stages of creating your small business website, you may be wondering what pages to add to tell a compelling story of who you are, how you can help, and why people should care.
While every business is different, all websites should have a few key pages to help guide visitors to the information, product, or service they're looking for. It's those essential pages that anyone visiting your site will expect to find in your navigation menu.
Read on as we share the five pages your small business website needs, as well as the kind of information to include on each page.
Not sure what kind of site you need? Read this post to learn about the different types of websites and which one suits you best.
1. Homepage
Your homepage is one of the most important pages on your website. And while not every visit will start with your homepage (some people may land on other pages from the search engine results), it's likely to be one of the most frequently viewed pages on your site. So make sure it's compelling enough to entice visitors to give your business a chance.
So, what should your homepage include?
A catchy yet clear description of what your business does, the value you provide, and why people should care and choose you over your competitors.
A bulleted list of the main products and services you provide, each with a short explanation of how it can help solve prospects' problems.
Eye-catching pictures of yourself or your team in action, or of the products you sell.
One or more customer testimonials to build trust and show the kind of experience prospects can expect from you.
A prominent and powerful call-to-action that guides visitors to the next step.
Check out these tips for creating irresistible calls-to-action.
Here is an example of a strong homepage: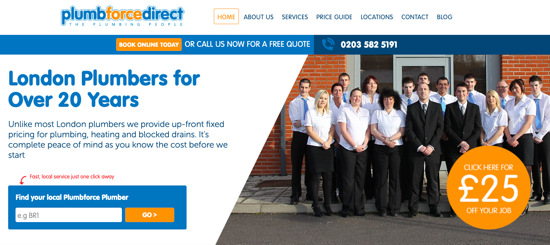 The headline and description clearly explain what the business does and why you should care. The call-to-action is simple yet powerful enough to entice visitors to take the next step.
As you scroll down the page, the business also briefly explains the key benefits of choosing to work with them. This is then followed by a few customer testimonials that reinforce those benefits.
2. About page
Most first-time visitors will check out your About page to learn more about who you are and what you stand for, and ensure you're a legit and trustworthy business. This is an essential page to have on your site so make sure you take advantage to show you're a great company to do business with.
So, what should your About page include?
A story that helps humanise your business. Make it short and sweet, and try to show some personality.
A description of your business in the context of how you can serve your potential customers. You want visitors to relate to your values, join your journey, and feel like you're the only business that can help them achieve their goals.
One or two pictures of yourself and/or your team so visitors can begin to feel like they know you and can trust you.
A call-to-action. You might think that this page doesn't need a call-to-action but the truth is every page needs one. Guide visitors to the next step with a compelling call-to-action.
Check out this simple example from FitBit: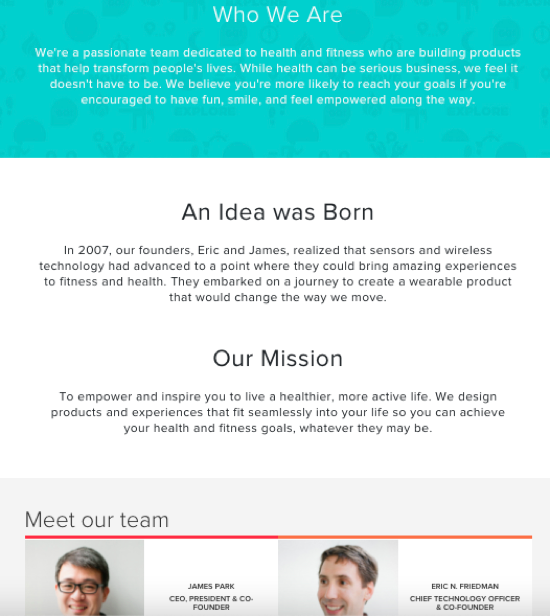 For more tips and advice, read this post that explains how to fix the most common mistakes on About pages.
3. Products or services
Products or services pages have become more important than homepages in recent years. Why? Because most people visit sites from the search engine results. So if you're running a search on Google for an electrician to fix a light switch, you'll likely see results with (and click to visit) pages that are relevant to that specific search.
Make sure you have dedicated pages to present your products and services in the best possible light.
So, what should your products or services page include?
A list of the main categories of products or services you offer, a short description for each, and a link to each page that includes more information about that specific product or service.
Whenever possible, try to include the price of your products or services. If you can't be specific, it can be helpful to add some estimates or a range of prices, e.g. carpet cleaning ranges between £40 – £60 per room.
Photos that highlight multiple angles of the product or that show your team providing a service.
Use these nine photography tactics to present your products or services in a compelling way to anyone who visits your site.
Check out these two examples of products and services pages: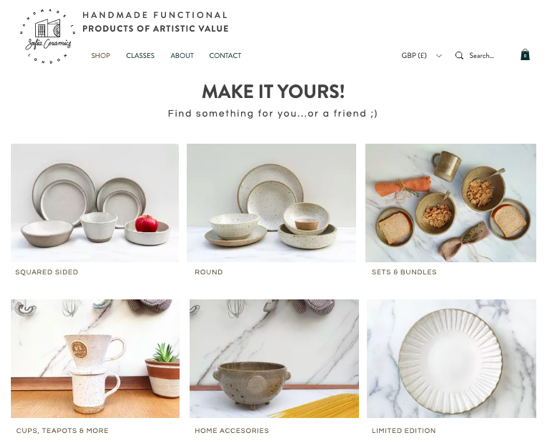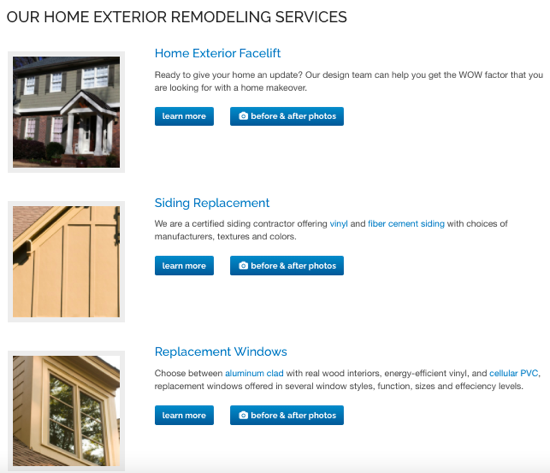 4. Contact page
A contact page can be a vital source of leads for your business, especially if you're selling services. In addition to filling out forms or checking your opening hours, people might also be going to your Contact page and looking for signs that you're a legitimate business.
So, what should your contact page include:
A variety of up-to-date contact options, such as email address, phone number, contact form, physical address if you have it, etc.
Opening hours.
If appropriate, details of how to find your business, and a map with a pin showing exactly where you're located.
Here's a good example of a contact page from a pre-made template available in our Website Builder gallery: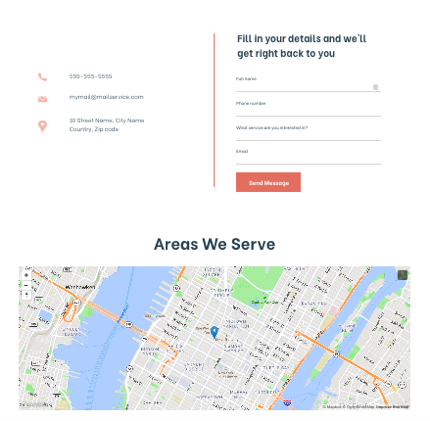 Check out this guide to learn more about it and see how easy it is to get your small business website online with our Website Builder.
5. FAQ page
The frequently asked question (FAQ) page is often skipped by many small business sites. It's surprising considering its many benefits. It not only helps to address common customer concerns and questions, but it can also build trust and make people feel more confident buying from you.
It also saves you time as you don't have to keep answering the same questions over and over again. They're all on your FAQ page. In addition to all these, a FAQ page can also boost your search engine optimisation efforts since some of your prospects might run a search on Google for some of the questions and answers on your page. That'll lead them directly to your site.
So, what should your FAQ page include?
Simple. A list of your customers' most common questions and your answers to those questions.
Here's an example of how this page might look: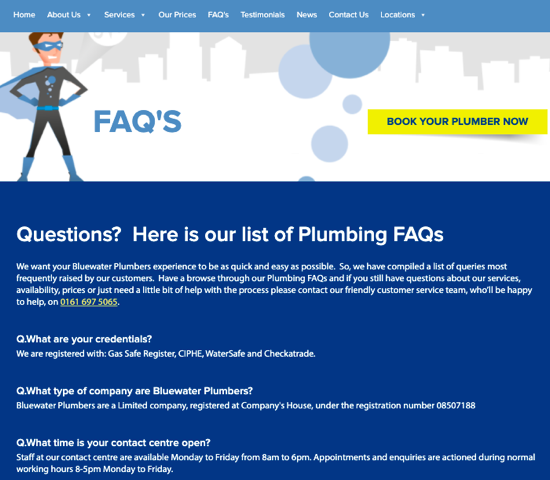 Read this post to learn how to decide which questions to address here, plus some tips on how to create a useful FAQ page.
Wrapping up
Your website is the place prospects come to learn about what you do and whether you have what they're looking for. And that's the purpose of these five key pages – to tell a compelling story about your business, what you can offer, and why people should trust to buy from you. So, no matter what business you're in, try to include these pages to ensure visitors have all the information they need to choose you over your competitors.