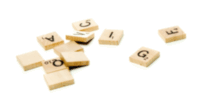 I've just spotted a good article in the New York Times bemoaning the way websites get named these days.
The article's writer, David Pogue, reckons there's a real lack of imagination. He puts it down to laziness:
"These days, startups take the lazy way out: they choose goofy-sounding nonsense words. They think they're being clever by being unclever.
"These are all actual Web sites that have hit the Web in the last year or so: Doostang. Wufoo. Bliin. Thoof. Bebo. Meebo. Meemo. Kudit. Raketu. Etelos. Iyogi. Oyogi. Qoop. Fark. Kijiji. Zixxo. Zoogmo."
I won't pass judgement on any of those, but it has left me wondering how exactly you pronounce 'Bliin'. Anyone?
It can be tricky to come up with a name that's catchy and – crucially – still available. Although lots of decent domains have already been taken, the sheer number of permutations means that plenty of good ones are still to be claimed. You can use our domain search to see if the one you want is free.
How much trouble did you have finding a good domain name? Did you manage to get the one you really wanted, or did you have to compromise?