Eight quick online selling tips to grow your revenue
You don't need to attract thousands more website visitors to grow your revenue. The key to boosting sales is to encourage as many visitors as possible to buy from you, come back, and recommend you to others.
Whether you sell products or services online, there are many small things you can implement with ease to entice more people to trust you and to buy from you or book your services.
In this post, we'll share eight quick and easy things you can do to turn more visitors into customers.
Don't forget: You can use the 123 Reg Online Shop to quickly and easily build your own ecommerce website.
1. Add a search bar
If you're selling more than a few products or services, considering adding a search functionality on every page of your site. Why is that useful? Because a good search experience can help visitors find the product, service, or information they're looking for with ease. They might even find other products or services that they either didn't know they want or hadn't thought to look for.
The benefits of having a search bar on your site are undeniable. Just look at these stats:
If you decide to add a search bar on your site, make sure it's easy to spot. A good place to add it is at the top of the page.
Here's an example from one of the pre-made templates available in the 123 Reg Online Shop gallery: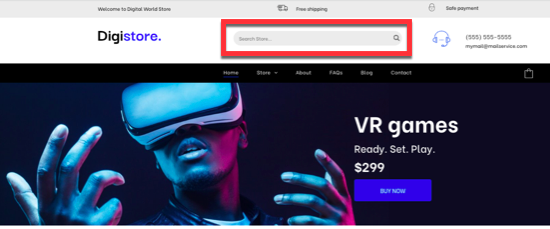 Make sure that the search box placement is consistent throughout your site. So if you choose to place it on the top centre of your homepage, then that's where it should be on every other page of your website.
2. Make your product or service descriptions irresistible
Product and service descriptions are very powerful – so powerful that they can entice visitors to take the next step or hit the back button. If you want to grow your revenue, avoid cutting and pasting manufacturers' product descriptions. That's because those are usually plain and feature-focused.
Instead, you want descriptions that not only tell what a product does, who it's for, and why it's a must-have but also what it feels like to own and use it. Check out this example from Tortuga backpacks: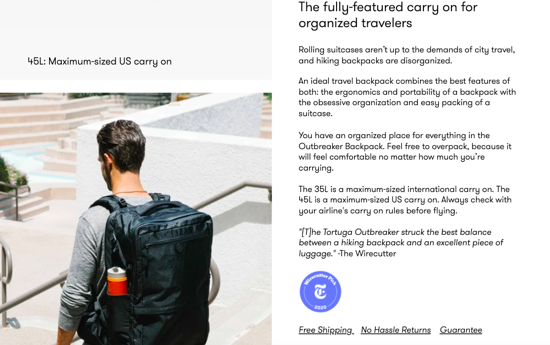 Read this post for more tips and advice on writing compelling product descriptions that sell.
If you're selling services, your descriptions need to tell a story of how you can help clients solve a problem or achieve a goal. Here's an example from a plumbing company that builds trust by highlighting expertise, professionalism, and transparency.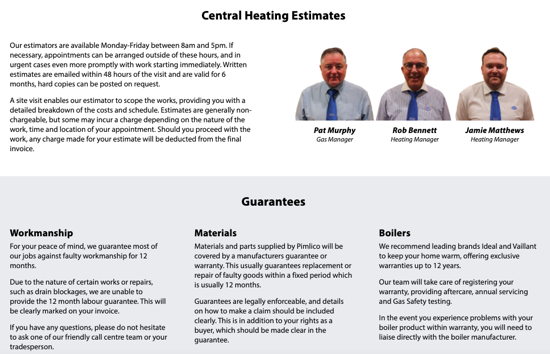 3. Invest in quality images and videos
Considering how important appearance is to how we perceive things, it stands to reason that having quality product and services photography will have a similar effect on anyone visiting your site.
So, try to add multiple images that show off your product from lots of different angles, like in this example: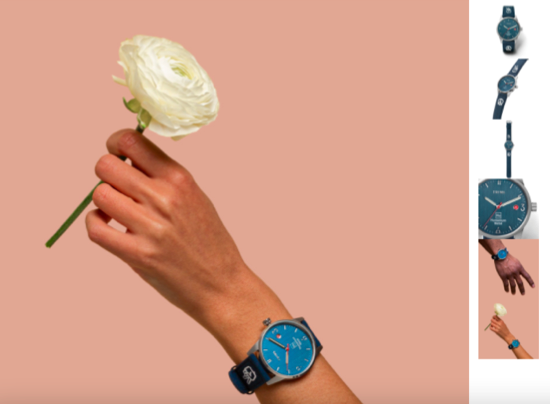 If you provide services, add images of your team members, before and after shots, and photos of your happy clients. For more tips and examples, check out nine photography tactics to sell more products and services online.
4. Have a prominent call to action on every page
No page on your site should be without a call to action (CTA). A CTA tells visitors what to do next. A powerful CTA can also entice people to take that next step and buy from you or book your services.
Here's an example from one of the pre-made templates available in the 123 Reg Website Builder gallery:

So, whether you're selling products or services, review every page on your site and make sure each one has a clear, attention-grabbing, and compelling CTA button that guides prospects to the next step. You can read this post to learn more about the importance of CTAs and how to create yours to grow your revenue.
5. Display customer reviews and testimonials
It doesn't matter how great your website's content is. The truth is, there's nothing like customer testimonials, reviews, and ratings to entice people who are new to your business to buy your products or book your services.
So, add those testimonials and reviews on your homepage, product or services page, About page, and contact page.
Here are some examples of how to sprinkle those testimonials on your pages to boost sales and revenue: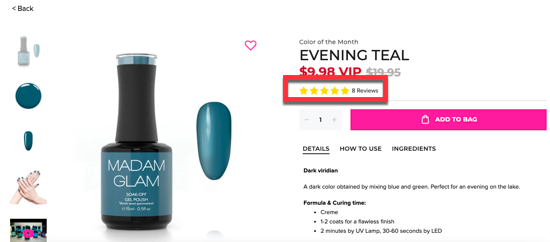 If you have several testimonials already, you can also create a separate Testimonials page to display them. Read this post to learn how to create a successful testimonials page.
6. Offer a variety of payment options
If you only provide PayPal or cash as a payment option, you can't be surprised if some people leave your site without buying anything. Not everyone has a PayPal account or wants to pay cash on delivery. So, if you only provide one or two options that your customers don't use, you're losing revenue right there.
Want to make more sales? Then make sure your website allows payments from not only major credit cards and debit cards, but also alternative forms of payment such as Apple Pay, PayPal and Android Pay.
If you're using the 123 Reg Online Shop, you can add lots of payment options to your online shop. In Ecommerce, go to Payment to add the payment methods you want to accept on your site, including cash, Stripe, PayPal, Klarna and major credit cards and debit cards. Learn more about our Online Shop and how easy it is to start selling online.
7. Offer guest checkout
Some customers want to be able to buy a product without having to create an account. They want to add a product to the cart, add delivery and payment details, and then just wait for their product to be delivered.
Forcing people to take extra steps takes time: creating an account, setting a password, checking their inbox to open your email and verify their account. In some cases, it can be so frustrating that people decide to just leave the site and go elsewhere where they can checkout quickly, as a guest.
You don't want that to happen. So, to keep those customers on your site and entice them to buy, make sure to offer a "checkout as guest" option. Your customers will appreciate it.
8. Ensure your site protects customer data
When going through the checkout and paying for a purchase, there's nothing scarier than seeing a "not secure" message in the browser. That's guaranteed to make anyone reconsider moving forward with a purchase.
You did such a great job to get visitors to this point. You don't want to lose them now. To stop that not secure message appearing,  buy, and correctly install, an SSL certificate. An SSL certificate encrypts information sent via your website, helping protect a customer's sensitive information such as their name, email address, physical address, credit card details. Check out our available SSL certificates and choose the one that best suits your needs.
Wrapping up
Building a website or an online shop is the easy part. The tricky, more challenging part is growing your revenue even when you don't have a huge amount of traffic. Hopefully, some of these quick tips will help entice more of your visitors to buy from you or book your services and recommend you to others.