How to optimise your site for Google's new local pack change
Local SEO has seen another huge shake-up since Google released the Pigeon local algorithm last year. On Thursday, August 6th, Google updated the local search results, switching from the 7-pack local listings to 3-pack listings. This means that instead of showing seven businesses in the pack and in the map, it's now showing only three businesses.
Here is a picture of the new local pack, which is now displaying three results instead of seven: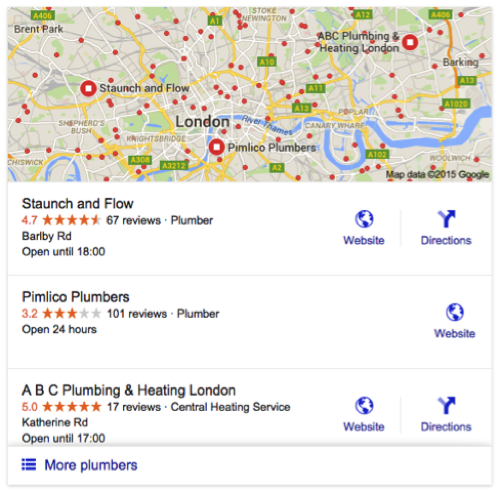 But this isn't the only change that Google has made to its local search results. In this post we'll walk you through all the changes, discuss how they might impact your local business and advise you on ways to optimise your business listing in the new 3-pack world.
What are the major changes?
Here is an overview of what has changed in local SERPs:
7-packs now 3-packs
Mike Blumenthal was the first to notice the usual 7-packs had dropped down to only 3. It seems that Google launched this change both in the US and internationally at once.
Addresses removed
Google is no longer showing the phone numbers and exact addresses in the listings. Instead it's only showing the name of the street where the business is located. This means that users need to look for your business contact information on their own. They will either have to click through to your site or the map listing to get your exact address.
Phone numbers removed
As with the business address, users need to click through the listing or get the number directly from your site. Interesting enough, the mobile version does have a "Call" option for each listing even though it doesn't display the phone number.
Google+ links removed
This is a surprising change, considering Google has been pushing for businesses to claim their profile page. But don't give up on it as Google is still showing the reviews from your Google+ page in its search results.
Where links redirect users
When a user clicks through to a listing on any place other than the "Website" link, they will see a total of 20 local listings and the map: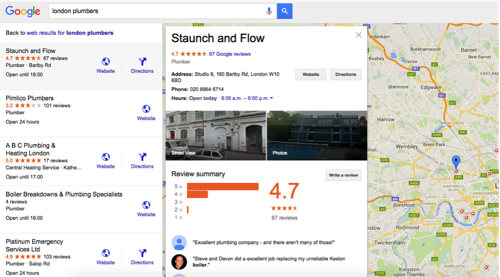 So the new change gives you a bite-sized bit of information that leaves the user wanting more. Google provides the "more" after users start clicking through, including contact information and website links, map and location information, customer reviews, and all of the other important information that searchers are used to finding in a Google listing.
What caused the change?
This major change is most likely a result of the significant growth of mobile usage. With Google switching to 3-pack listings on the desktop, Google is trying to align the mobile and desktop user experience so that desktop users get the same experience that mobile users have had for some time.
Here is how the local pack appears on mobile: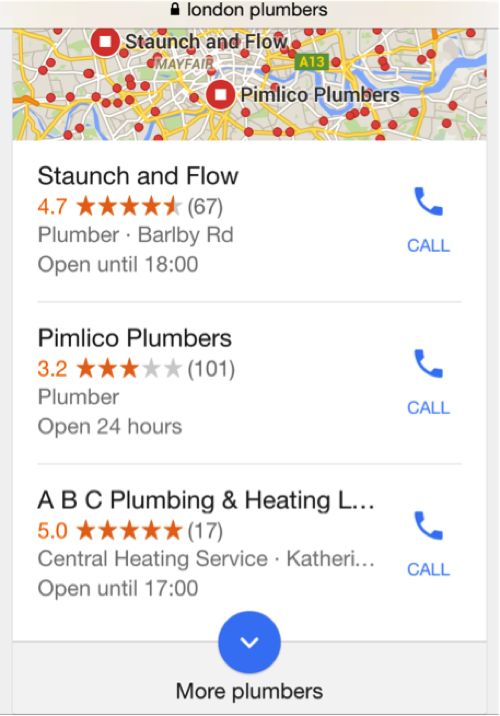 As you can see, the look and feel for desktop and mobile searches is very similar.
How will it impact your local business
While the new display provides an increased opportunity for organic results, many local businesses that previously had a spot in the 7-pack are now no longer visible, leading to higher competition for the three spots available.
This also means that local businesses will now need to work harder to get listed in the first three positions. This involves taking Google My Business and local citations more seriously, as most of the information provided within the local packs is drawn from existing Google+ pages or authoritative local listing sites.
Also, you need to remember that there's more to local SEO than link building and directories. While some businesses have been able to get by with only minimal SEO efforts, especially those in less competitive markets, this is no longer the case. Now that those 4-7 spots are gone, you need to up your local SEO game to stay competitive.
There's also one other thing to consider: even if your business isn't listed in the 3-pack, you still have plenty of opportunities to get noticed. For example, since searchers need to click to the new 20-business map view to dig out the contact information of the business they're interested in, you still have the chance to get noticed, even if you weren't listed in the 3-pack listing. So make sure all your contact information is up to date and take advantage of this visibility to get new customers.
How to further optimise your local after this change
Wondering how you can improve your local strategy in order to make the most of the new local listings? Here are a few things you can do:
Take advantage of the top-20
Ok, so your business isn't listed in the 3-pack but if it does show up in the top 20, take advantage of this opportunity to create a compelling snippet for your business that will win searchers' attention and steal potential customers from your competition.
Claim and fill out your Google My Business page
While a link to your Google My Business page is no longer available to users, most of the information for your local business card is still taken from your Google My Business page. So make sure to claim your official Google My Business listing, if you haven't already, and fill it out with all the important information about your business. Add your phone number, website, opening hours and upload a picture. That way Google and potential customers will know exactly what your business is about.
Earn more Google+ reviews
While they're no longer called Google reviews, the reviews from your Google My Business page are the ones showing up in the local pack snippets. So do your best to encourage customers to leave you a review. Check out our post to learn how to attract more reviews from customers.
Ensure NAP consistency
Since the address and phone numbers are removed from the listings and users have to visit your site to find your contact information, make sure it's present and highly visible on your website.
Consistency is the key when it comes to your business's name, address and phone number (NAP), both on your website and wherever your business is mentioned on the web. If your NAP details differ from place to place, you'll not only confuse potential customers, but search engines as well.
Get listed in local directories
There are two types of directory you should be looking for: The kind that's so big you can't ignore it (Yelp, for example) and the kind that is used by your customers and people like your customers. There'll be a significant degree of overlap here, but you shouldn't neglect the latter group.
In order to find directories that are used by your potential customers you should 1) Ask existing customers how they learned about your business and 2) Look at which directories your competitors are using.
Once you've done this, you'll have a prioritised list of directories to which you can submit your details. If you've submitted to the directories in the past, take the time to ensure your details are correct, up to date and match those you use on your website 100%. If you've got money to spare, but are short on time you can use a service like Whitespark.ca to help speed up the directory submission process. The 123-reg Search Engine Optimiser tool will also help you identify the biggest directories to which you can submit your business details. This is a great option if you don't have the time to draw up a list of directories and just want to target the most important ones.
Remember, this isn't about making as many submissions as possible; it's about making sure your business is listed on sites that are being used by potential customers.
Don't forget about good-old SEO
It's becoming more important for local businesses to work on regular SEO, both onsite and offsite. Even if your efforts don't pay off immediately and you don't get listed in the top three spots, you're still helping your organic rankings. Check out this guide to learn how to optimise your website.
Wrapping up
If you want to take advantage of this new update, keep up the great work you've been doing. Encourage your customers to leave positive reviews on your Google+ page, and make sure other sites like Yelp or Trustpilot have positive reviews too. Be sure to keep all your business information up to date so that the small amount of information that this new update does provide will be a good representation of your business that will entice potential customers to choose you over your competitors.