Big digital marketing on a small budget
As a business owner which do you have more of – time or money? Unless you're lucky the answer is most likely to be the former. In my experience, growing firms tend to be able to spend a lot in terms of effort, but not so much in terms of cash – especially when it comes to the "nice to haves" such as online marketing.
Even if you're new to running an online business, the chances are you'll be familiar with the basics of internet marketing. You'll be aware of AdWords, banner ads, search engine optimisation and social media ads.
You'll also know that, by and large, these things will cost you money. It might be a worthwhile investment if you get the returns you're looking for, but if you don't have the money to pay for things upfront it's a non-starter.
However, you can run SEO and social media campaigns on a shoestring budget and that's what we'll look at here. In short this post will tell you how to: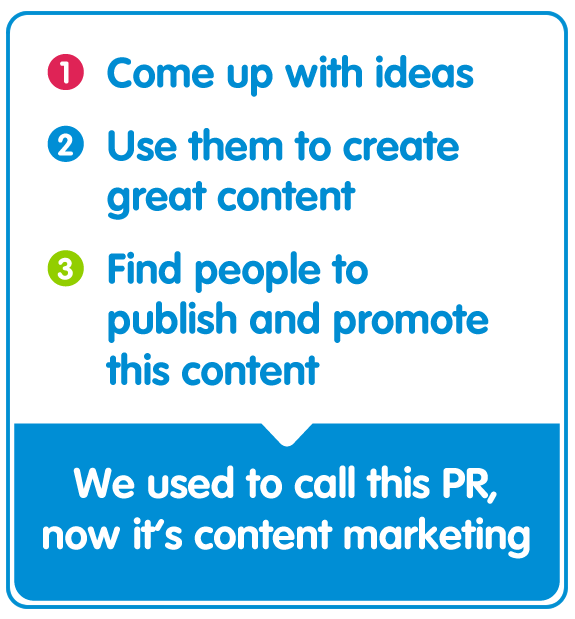 Finding your audience
Most business owners have a solid understanding of what interests their target market even before they open their doors. Starting your own business is often an extension of an existing passion and as such you will often know a lot about your audience without having to do any research. However, if you're going to create content that people love, you need to have a precise understanding of the kind of thing that pushes their buttons.
Bear in mind, we're not looking at sales pitches. Rather we're aiming to create content that will not only be of interest to people who are potential buyers but also solve the problems they're facing. To achieve this you'll need ideas. Here's where you can find them:
Quora: A social network based on questions and answers. It's a great place to find the subjects that interest people.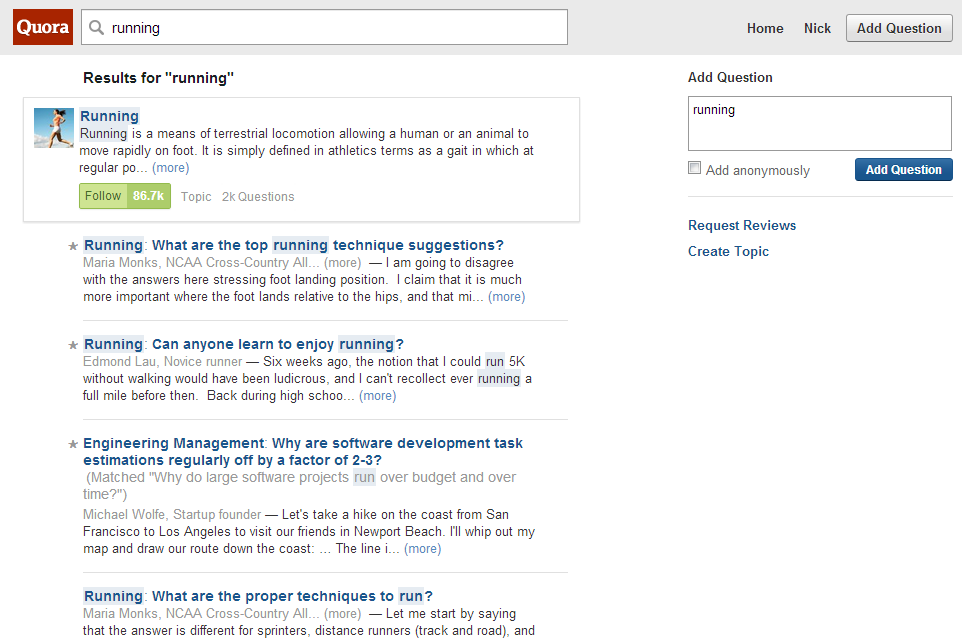 Google Consumer Surveys: You do have to pay for this one, but at as little as 7p per result, this is still a cost effective way to get the kind of unique data that can power great content. Just come up with your question(s) and you'll get answers from web users in the UK, USA, or Canada depending on the area you're interested in.
Feedly.com: A news aggregator that helps you keep track of what other people in your niche are writing about. You can use it as a source of inspiration. Identify the best sites that cover topics that interest your audience and keep track of the kind of content they're producing.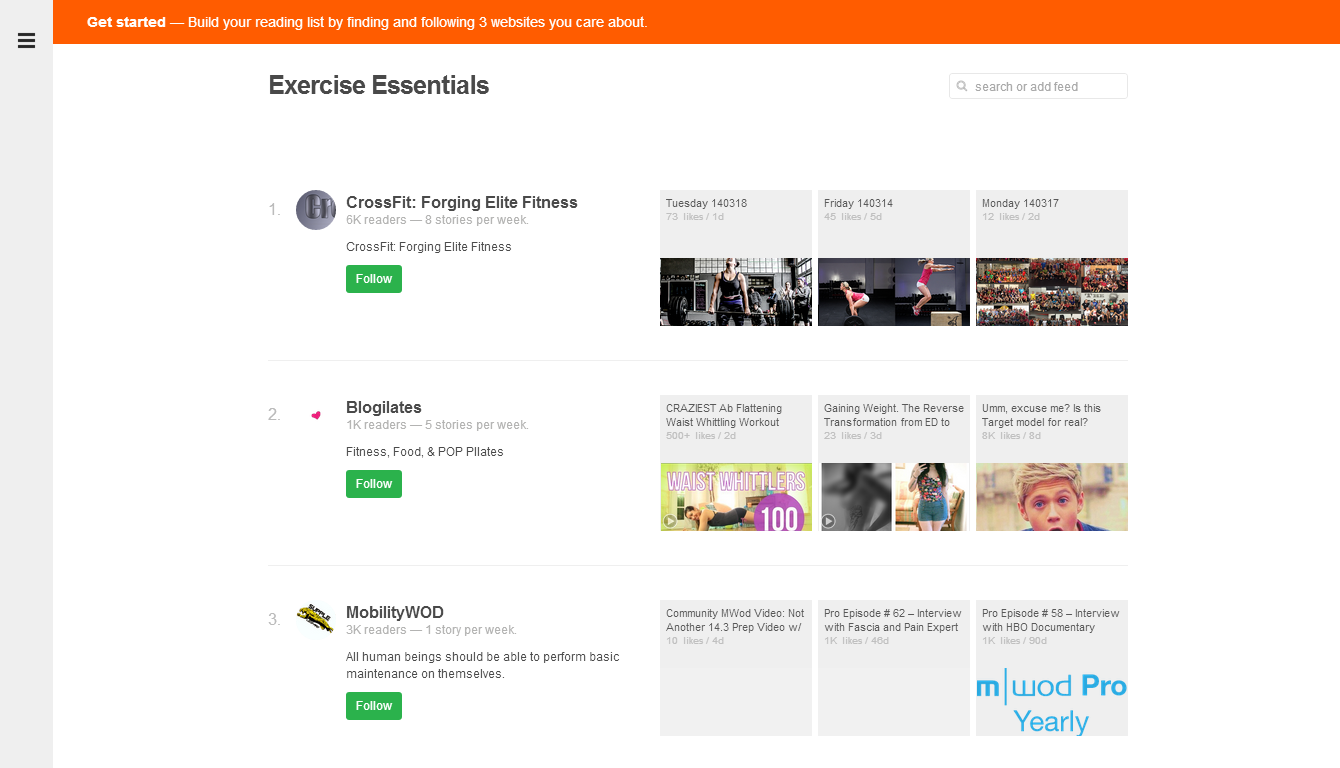 Social Crawlytics: This tool allows you to identify which articles on a site have the most social shares. This is another way to see what your audience like. You can use this information to guide the content you create for your site, or to ensure you're pitching the right ideas to third-party sites. More on this later.
Evernote: Finally, you'll need somewhere to keep track of your ideas. Evernote lets you make notes anywhere you have access to the internet. You can also save images and webpages, meaning you'll never let another good idea slip away.
Once you understand the kind of topics you want to cover, dig down into the concepts that underpin them. For each subject you should end up with something like this: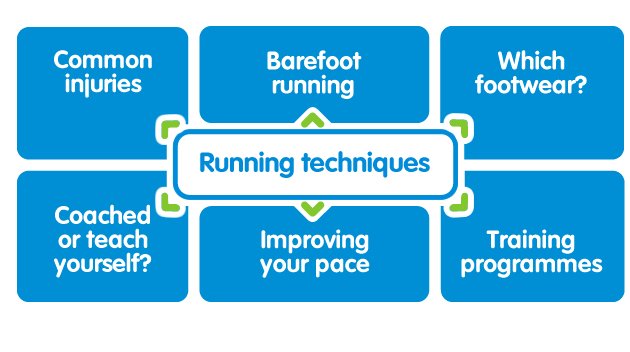 From one main topic, we have several subtopics, which we can either subdivide further or use as the jumping off point for content.
Turning ideas into written content
Once you've got a list of potential ideas, you'll want to begin creating content. The easiest way of doing this is by writing. Writing for the web is a mixture of art and science. Here are a few pointers get you on the right track.
Identify a problem and present a solution: You've done the ground work for this while you were getting your ideas, so don't lose track of it in the writing process. For example, if you decide to tackle the subject of improving your pace while running, readers should come away with tips that they can use to go faster.
Using Hemingway: Hemingway is an excellent tool that can pinpoint problems with your writing and help you correct them. It's free and it's extremely useful.
Break up your text: Online, long blocks of text, no matter how well written, are a real turn off for readers. Use images and headings to break things up. (This article is an example of this technique.)
Turning ideas into visual content
So where can you get images that will bring your writing alive? You can't lift copyrighted pictures from the web, and employing a graphic designer can be expensive. However, tools such as Infogram and Piktochart will allow you to generate strong images that will complement your written content. You can even create standalone infographics if that's the road you want to go down.
So what should you do with this content?
You have two choices – the first is to post it to your own blog and encourage people to promote it for you, and the second is to post it to sites that already have an established audience. These two techniques are closely related. Here's how you can make use of them.
Identifying influencers with Google
For the first technique you'll need the MozBar for Firefox, Buzzstream's link building query generator, and, if you're feeling adventurous, Excel.
Sticking with our running example you'd follow the following process.
1: Use Buzzstream to generate queries then run them through Google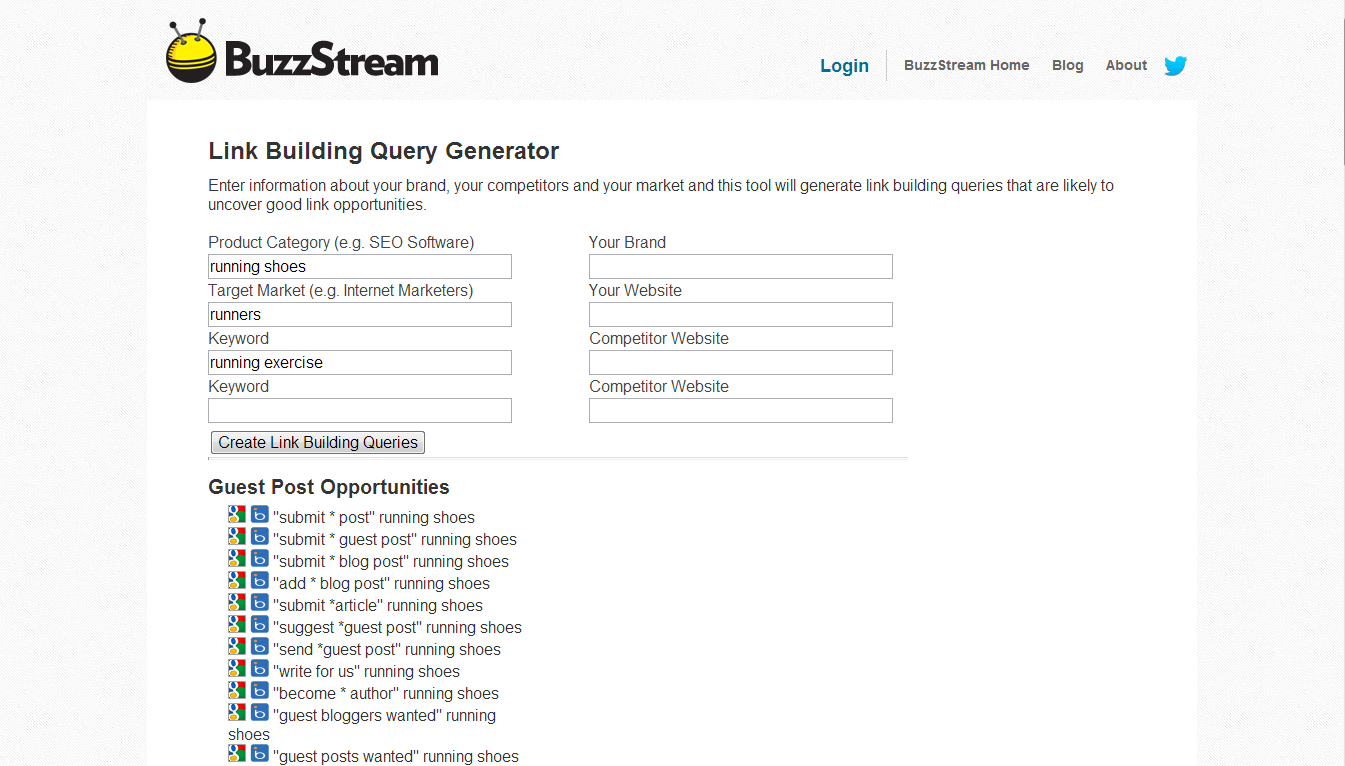 2: Use the Moz Bar to assess the quality of the sites. The metric we're interested in here is Domain Authority; the higher the better. You'll want to focus on sites with a DA of 30+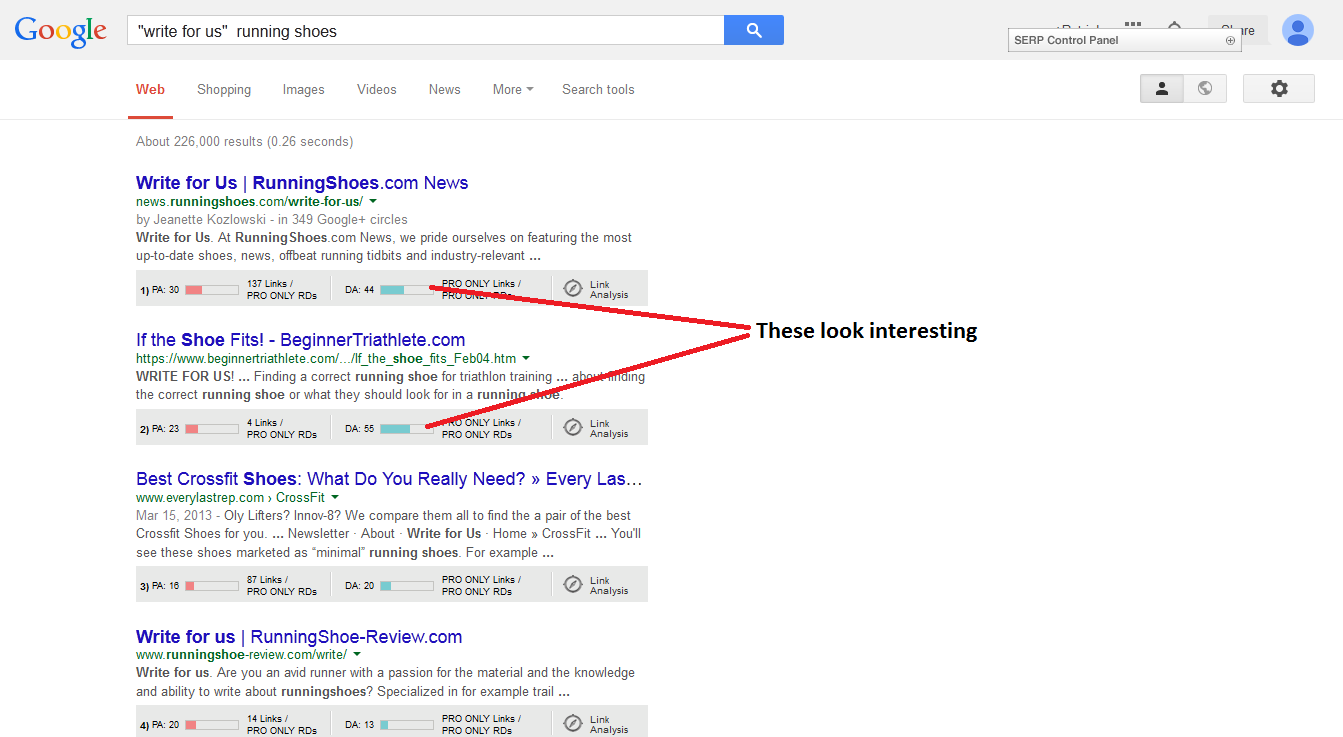 3: Extract the results to a CSV file and filter them using Excel. (This is optional).
You now have one list of potential promoters.
Going social
Next up, head over to Followerwonk. You can use this tool to search for Twitter users and sort through them based on their influence. The equation is simple – you're looking for people with high numbers of followers who operate in your niche and, preferably, have a website. Again, you can export all this information to Excel and filter it, if you're comfortable with doing so.
Tip: If you add "www" to the bio search field, your results will only include people who have websites.
By now you should have a substantial number of prospects. What you do next depends on which approach you want to take.
If you're creating content for your blog, your aim will be to get your posts shared by people with a strong social presence and linked to by people with strong blogs. If you want to contribute to someone else's blog, you'll need to pitch your ideas. Pitching isn't as daunting as it might sound, but you do have to get things right. Check out the further reading section at the end of the post if you need some pointers.
Turning these steps into a process
At the moment, it may seem like we've put the cart before the horse – how can you pitch ideas for articles when you've already written and researched something else? However, it's important not to view the techniques we've looked at as linear steps. Instead, think of things as an ongoing process that looks something like this: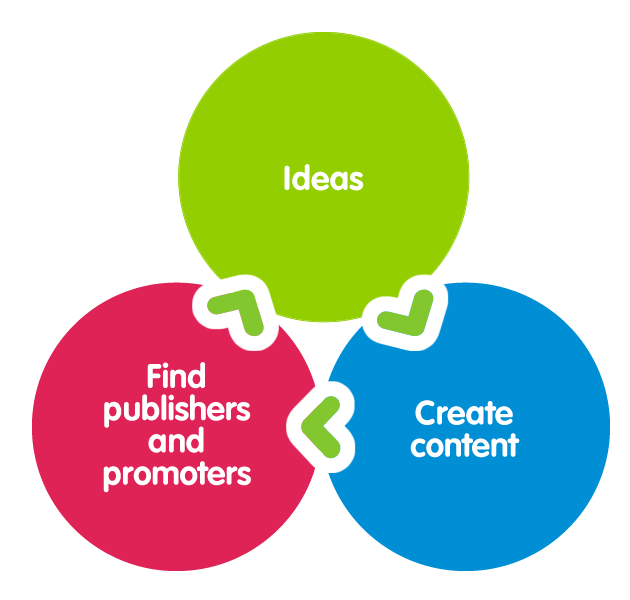 So in reality you might find yourself pitching content to one site, while working on a post for another, at the same time as asking people to share a post you've written for your site.
If you can establish a process which allows you to create, publish and promote great content, you should be able to boost traffic, search rankings and, ultimately, sales.
Further reading: There's a lot to get to grips with here and we've only just scraped the surface. If you want to expand your knowledge, here are some additional resources to help you. Remember though, the best way to learn about this kind of tactic is to implement it.
You can watch me give a presentation about this subject here.
Paul May of Buzzstream takes a closer look at the topic in this post.
Rand Fishkin of Moz walks you through how to create the perfect pitch in this video.