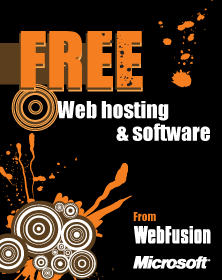 A common criticism by students of ASP.NET hosting in the UK is the cost.
That's why our sister company, WebFusion, in partnership with Microsoft, is now offering free ASP.NET hosting to all UK students!
The free hosting includes:
Windows Server 2008, IIS 7
500 MB disk space
SQL Server 2005 database
Support for ASP.NET 2.0, .NET 3.0, classic ASP and PHP
To get your free account you need a unique code and an email address ending in .ac.uk. The codes will be distributed directly via Microsoft's faculty contacts, at the upcoming Inspiration Tour venues or from Ed Dunhill's blog here.
Each session of the Inspiration Tour will cover the fundamentals of .NET, showing the latest and greatest developer technologies and highlight what opportunities are available for students. Get more information here.
If you already have a code, what are you waiting for? You can activate it over on the WebFusion website.