Back in February 2006 freelance software developer Andy Geldman found inspiration in a newspaper article about website addresses with accidental double meanings.  The same day, he coined the phrase Slurls (combining slur with URL), set up a website and started blogging as Chief Slurler hunting for more of these internet unique pockets of humour and embarrassment.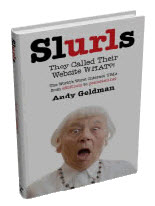 Years later he is still finding them, listing them and making jokes about them and has put the best together in his new book Slurls, offering a definitive introduction to the world's worst Internet URLs. So here at the 123-blog we thought we should get Andy's advice on how to avoid choosing a slurl and make sure you select a domain name that will be a success for the right reasons.
"I think you need to think about what the main aims are when choosing a domain name" explains Andy. "You want something that is 1. Easy to remember, 2. Easy to type in and 3. Gives the right impression."
That all might sound like common sense but as Andy explains "The scarcity of domains does make it difficult to find the perfect one." And it is that inability to get their first choice that often panics domain buyers and sees them making a bad choice and potentially creating a slurl.
"It is a bad idea to make up words. If they have no connection to what the business does then they can be difficult for people to remember." points out Andy. "Also the trend for q's and z's if they cant get the usual plural is a bad idea, unless you have a massive marketing budget to really promote it."
Just sticking to those three important aims is not as easy as it sounds "Sometimes the aims conflict with each other. Those that are easy to remember might not give the impression you want to give." Cincinnati-based Effective Office Environments selected a simple abbreviation of their name but "effoff.com" doesn't really promote customer service. "Abbreviations like that are completely logical. Not on the face of it ridiculous but it is a bad idea to choose unusual abbreviations. It is something people try to do again when they can't get their first choice." explains Andy. "It's actually not that difficult to come up with something ridiculous or even offensive by mistake."
Andy is a strong supporter for keeping it simple. "It's good to have a meaningful name. Something that people might type directly into their browser." he explains, "Don't make it too long – it makes it hard to remember, hard to type in and is often too dull and uninspiring."
Yet the biggest piece of advice is offered as a last chance to stop your entering the world of the slurl: "Get somebody outside the business to check it for you. Preferably somebody who doesn't even know what you do." The reason: sometimes the impact  of coupling two words or a phrase you see everyday can have devastating effects that you will not spot. The example Andy gives is itscrap.com "I can completely believe that if you are involved in the computer recycling sector every day, using those two words becomes natural to you, but when you see it as a URL, as an outsider the words pop apart differently and most people get completely the wrong impression. I suppose it is linguistics."
So choosing a domain name is not easy but following Andy's simple rules means you should at least avoid picking a slurl. If it does all go wrong however, there is plenty of fun to be had with Slurls as Andy's book shows.
Have you found any new slurls?
Andy is offering Slurls to 123-reg customers at a discounted price of just £7 including postage and packaging (for UK customers only). If you want to take advantage of the same follow this link