This week is Global Entrepreneurship Week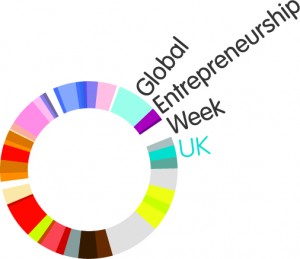 It's the world's largest campaign to promote entrepreneurship, and is promoted in 115 countries between 12-18 November this year. In the UK, the campaign is hosted by Youth Business International, a global network of initiatives that help young entrepreneurs to start their own business, in partnership with Barclays.
The theme for 2012 is Pass it On! urging people to offer the practical help & support needed by early start-ups and individuals who are considering taking the plunge. Last year over 900 partner organisations got involved in the week in the UK alone, reaching 213,000 people through 2,305 activities. This year that's already at 2,900 events with over 270,000 participants. Have a look for an event near you.
Events are being held for all those thinking or already running a business. You are never too old or too young to learn nor to start up your own business and this week more than any is a great way to get those ideas up and running. Over the next month at 123-reg too we will be offering more words of advice and inspiration to get you and your business online. There's no business in the modern world that won't benefit from a professional and reliable set of internet services.
So whether you are looking for simple web-hosting, email, or looking to go full ecommerce we have solutions for your inspirational business project. You don't need masses of technical knowledge either as it's as simple as 1-2-3 to get started especially with products like Website Builder.
What you do need is to be inspired and hopefully the events of #GEW2012 and the articles on this blog will be the springboard you need to set your business off in the right direction.