How to Create a Free Business Email Address (in 4 Ways)
Are you still sending out business emails with that old Hotmail account? It could be time to switch from a personal email to a new professional email address. Once you're up and running with a website, switching to a business email — one that matches your site's domain name — is an easy shift, but a really impactful one to make. Having your own shows customers who you are and what you do. A business email address has the potential to raise your brand image and let everyone know that you are a pro.
By Will Stevens. With contributions from Joanne Dewberry.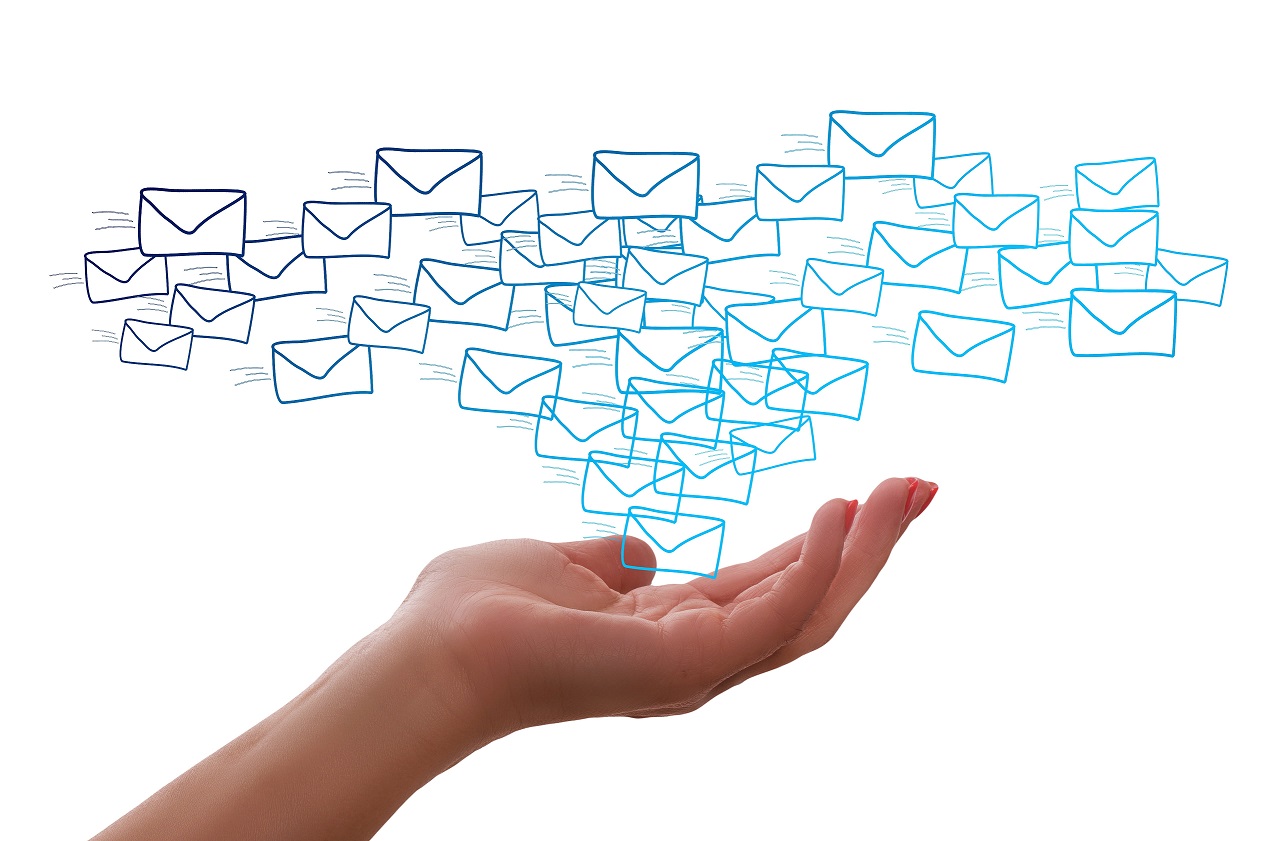 What is a professional email address?
Custom professional email address use a business's website name after the @ sign (for example: yourname@123-reg.co.uk) rather than a generic one, such as Hotmail.com or yahoo.com. You can use this address for all sort of things including email marketing, customer service and more.
Why you should use a custom email address
When you first start a small business, brand identity is one of the most important aspects to consider.
Branding is so much more than a gorgeous logo; it encompasses your core values and ethos, alongside the colours you choose, and images — whether branding images or in the products you sell. You need to take into consideration every aspect of how your business is portrayed online. Having a custom business email address is such an important factor.
A branded business email is important for anyone doing online business. Using Yahoo! or another generic provider name may convey a less-than-positive image to customers. First impressions count.
A custom business email address is a key component in streamlining your branding. It's the same principle whether you're trying to sell electrical goods, running a plumbing business, or running a cafe: a bad email address makes it very difficult to gain trust. People may even ignore you altogether — especially if they don't recognise who the email is coming from, or if it ends up in the spam folder. Switching to a custom business email address is one of the best steps you can take to boost your credibility and help with your branding.
Your email address in three parts
We get so used to seeing them that we lose sight of their significance, but a good email address can help you stand out from the crowd. There are three core parts to consider for making a custom business email address that works:
The username:

This identifies a specific person (ie

joanne@123-reg.co.uk

) or group. You will have probably noticed that most businesses create a generic identifier such as hello@, support@, info@, or help@. This level of personalisation means you can create a variety of email addresses either for each member of staff or for specific tasks whereby numerous staff members have access to one inbox

based purely on the email needs of your small business.

The @:

Connects the person or salutation (such as hello@, info@) to the domain that follows it.

The domain name:

This is determined by the email account, host, or client (i.e., gmail.com, hotmail.com, or in the case of creating a custom professional email your unique business domain name ie. 123-reg.co.uk
Put it all together, and you have info@123-reg.co.uk or help@123-reg.co.uk, for example.
What's a
domain name?
A domain name is the unique, easy-to-remember address which you use to access any website. It comes directly after www. and is your identity online. The best email address for a professional email is an email that includes your business domain.
Ideally, your domain name contains your business names or fits your business — for example, B&Q's domain name is www.diy.com. Although it doesn't include the business name, it is quickly and easily identifiable and easy to share and promote.
Four ways to set up a free business email address
It's always good to get things for free, so here are four ways you can set up a free business email address. Remember that if you wish a free custom email address from 123 Reg, you will have to buy a qualifying product. If you're already a 123 Reg customer, be sure not to miss out!
Here's how you can set up a free business email account.
1. Use the 123 Reg Website Builder
If you create your site with the 123 Reg Website Builder, you'll get five free email address on the Online Shop Starter and Online Shop Standard plans.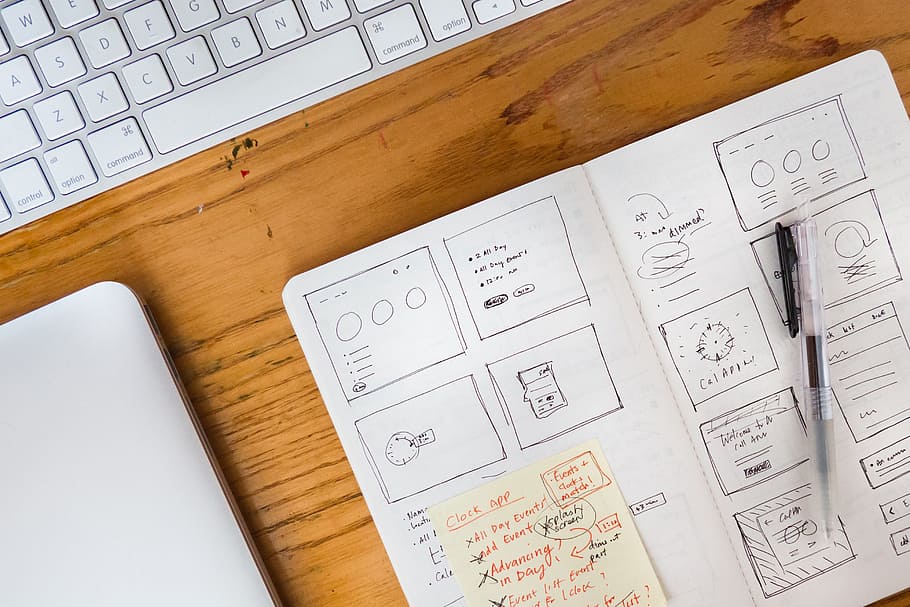 If you're using our Online Shop, you'll get five free email addresses.
2. Buy 123 Reg hosting package
All our Web Hosting, WordPress Hosting and Premium Hosting packages come with the option to set up multiple free business email accounts.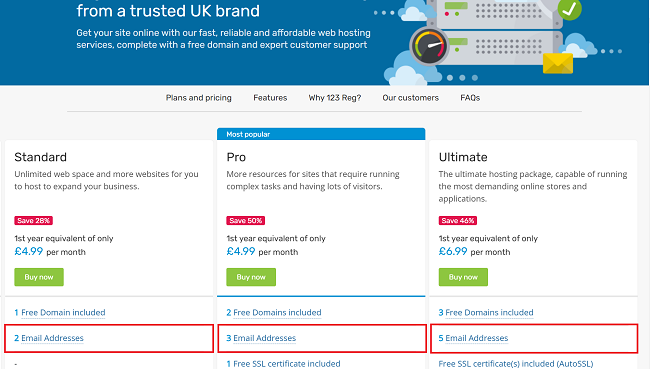 Check the details of your plan to see if it entitles you to an email address.
3. Buy a domain name from 123 Reg
All our domain names come with free email forwarding, which allows you to create an email address based on your domain.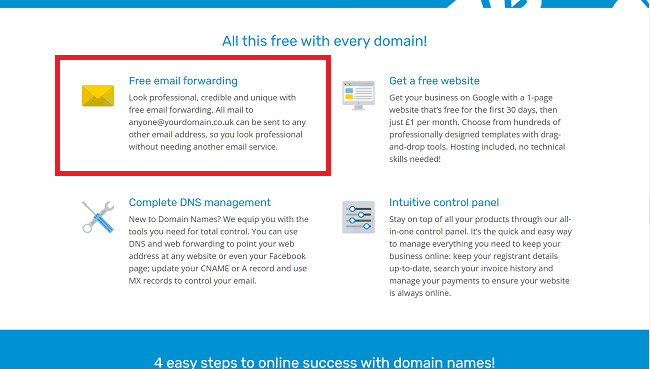 Email forwarding has some limitations, for example you won't be able to send emails using your custom email address, but it can help you save money when you're just starting out.
4. Buy Microsoft 365 from 123 Reg
Microsoft 365 comes with a full range of productivity tools and a free custom email address.
This is a great option if you need an email address as well as tools like Office 365, Excel and more.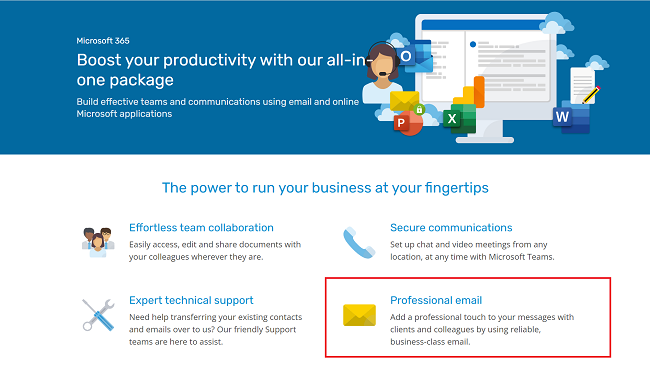 Bonus option: 123 Reg Email Hosting
If you don't own a 123 Reg product that comes with a free professional email address, you can use 123 Reg Email Hosting. (You'll still need to have your own domain name to set up your email address.)
Need more than one email address for your business? Give our team a call on 0330 221 1007 and we'll be happy to help?
How to set up your 123 Reg business email address
If you have a 123 Reg product that comes with a free email address, or you're using 123 Reg Email Hosting, you can set up your account through your Control Panel.
Scroll down to the Email section and select Manage email. On the next page, click Create and then select Mailbox.

You can then create your business email address. You'll need to decide what you want the bit before the @ of your email address to be and, if you have more than one domain name, you'll need to make sure the right one is selected.
You'll also need to create a password. You can find full instruction for setting up your 123 Reg email account here.
Follow this guide to set up email forwarding using a 123 Reg domain name.
6 reasons you need a professional custom business email address
Switching to a custom business email address not only streamlines your branding but it will boost your credibility and makes your business look more trustworthy and professional. Sales and marketing are all about.
Build trust:

Email addresses that contain your business domain name give your customer an idea of who you are exactly and then they have a general idea as to why you contacting them. i.e. orders, promotions, customer service.

Increase simplicity:

A custom business email address can make it easier for customers to contact you as they are already aware of your business domain name. It also makes searches in inboxes less stressful.

Credibility:

Credibility and brand reputation are important factors in building your small business. Customers

are more likely to engage with a business that has a custom business email address as you appear bone fide, official and in most cases better prepared to handle any queries.

Consistency:

Your custom business email address belongs to you so if you were to change internet providers (for example

joanne@btinternet.com

) you don't need to change emails. By sending regular emails to your customers from the same custom business email address every single time you also build up consistency, a clear expectation and hopefully a desire from the customer who will look out for those emails.

Streamlines your brand:

Your domain name is 123-reg.co.uk, your social media is all 123reg plus your logo is too and then your email is

123-reg@gmail.com

. It makes no sense.

Everything needs to match to build all the above trust, credibility and consistency. Instant brand recognition is really important, it helps customers feel safe, comfortable and receptive to opening their wallets.

Security:

It means better security and privacy settings, not only for you (would you really want all your team members to have access to your personal email?) but your customers, giving control of what's shared and collected.

Hacking and compromises occur less using business domain emails, not least because they can reduce phishing attacks.
How to choose the right email provider?
With so many options out there, how do you decide which email provider is the right one for your small business? Ideally from the get-go you want to use a system that will grow with your business and not end up costing you in the long run. Think about these factors:
Scalability

: As your business grows how effectively can the provider manage your growing lists? Some platforms will have restrictions on numbers, the number of email addresses on your list and the number of times you can send them emails. It's worth considering in the beginning you get what you pay for, free platforms tend to have a very small number.

Usability:

Overcomplicated, jargon-heavy, not intuitive platforms are the worst. Ensure the platform is simple enough for your team to understand, especially if you rely on multiple team members to access and create campaigns. This will also help with brand recognition and streamlining if all team members are doing the same thing.

Deliverability:

Ever had an email where the small business reminds you to add them to your list so that their emails go directly to your inbox and not spam? This is why, inboxes have a way of filtering information and it's not always correct. The visibility of your emails and

delivery rate is a really important factor to consider and again easier to achieve with a custom business email rather than a Gmail or Hotmail address.

Automation:

T

here are so many repetitive tasks within our business that we can automate, taking out the human interaction saving time and money, improving productivity and increasing workflow. Use an email provider that has automation already in place saving you time and making this task far more efficient. Setting up welcome sequences, a set of emails that each customer receives when they sign up that sets them off on a journey with your brand. Or abandon cart emails which can remind people they have items in their baskets.

Analytics:

There is little or no point sending out regular carefully curated emails to your customer list if you have no way of analysing engagement, reach and return on investment, do any of your customers buy via your emails?

Integration:

Like automating systems integrations enable you to save time and money by utilising platforms you are already using combining your marketing assets and ideally collating all the data/analytics collected into one place rather than across multiple platforms.

Price:

We all want to grab a bargain but if the features won't work or grow with your business in the long run you could end up spending more money later on. Ensure you compare deals and providers.
Conclusion
Getting a professional email address will help your business look good and make it easier to stay in touch with your customers. You may already have a 123 Reg product that gives you access to a free business email account, but if not setting up your own email address can cost as little as 99p a month. It's quick, easy and cheap.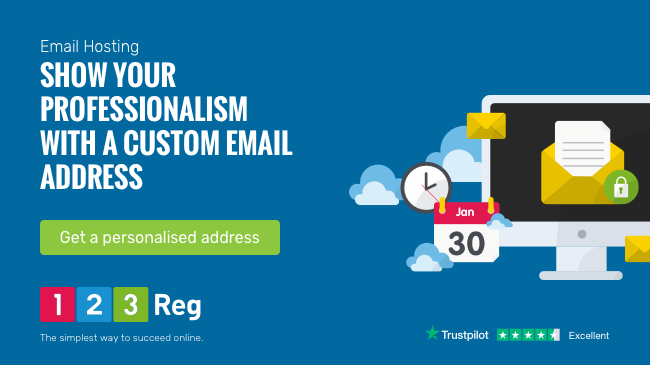 Frequently Asked Questions (FAQ)
Is Google Mail free for business?

Yes, Gmail is truly free, it's also available to everyone on Earth — including hackers. Most people know this, so when they see an email in their inbox from someone with a Gmail address, they tend to see it as less credible. More and more people are becoming aware of business email compromise (details here), as such they are far more cautious about clicking on links or interacting with such emails — another reason it's far better to have a custom business email address that includes your one-of-a-kind domain name.

How do I get a custom business email address?

Buy a domain name from 123 Reg. All our domain names come with free email forwarding, which allows you to create an email address based on your domain. However, email forwarding does have some limitations, for example, you won't be able to send emails using your custom business email address, but it can help you save money when you're just starting out.

Can I create a free business email account?

Of course, you can use a free Gmail or Yahoo! Email but, since it won't have your small business domain name in it. We have looked at how first impressions are important and how custom business email addresses build credibility and trust an email ending in gmail.com does not convey this nor does it appear very professional. When people see "gmail.com" at the end of an email address (which is easily viewable in their inbox), the tendency is to think this could be anyone. Having your business domain within your email address clearly conveys to the recipient – who you are and what you do.
Joanne Dewberry contributed to this post. Editor: Thom Harrison