The Google Keyword Volume Tool has been around for years in some form or other but via the odd tweak here and there has now evolved into a 'must visit' site for anybody designing a new web project.
The Keyword tool is linked with Google Adwords designed to find you words you might want to bid on and use in any paid for campaignsm but you don't need to be logged in to use the Keyword Tool.
Searching is simple and the results show you how many searches have been made for that term in the past month – both locally, based on your location and globally. The Competition bar also shows how competitive the market is for buying up adwords for that term.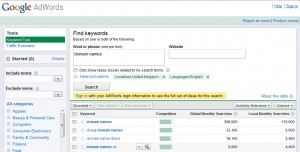 If you think there is value in you moving into a pay-per-click  campaign then you can get an idea as to how much that might cost you by using the Traffic Estimator link on the left. This will provide as estimate on the likely cost per click of the keyword and also the likely volume of traffic and how much that is then likely to cost you per day. All your research ready prepared and easily presented.
If you are designing any new site, even just planning a new project the Keyword Tool is something you can't fail to ignore, the results offfer valuable insight into words to use on your site both hidden and visual and even your site name.
Do you use Google's Keyword Tool? Any tips?
If you want to drive more traffic and sales to your site, read more about our Pay-Per-Click management solutions to see how we can help.