How to buy a domain that is owned
Isn't it frustrating when you come up with the perfect name for your business and then, after you run a search, find out that the domain name it already taken? And what's worse, the owner doesn't seem to be using it?
While you can't make someone give up a domain they own, there are things you can do so don't abandon hope just yet. Follow the steps below and you might just get the domain you've always wanted.
Step 1: Visit the website
Few people bother with this, but it should be the first thing you do. So, open the site in a web browser and see what's there.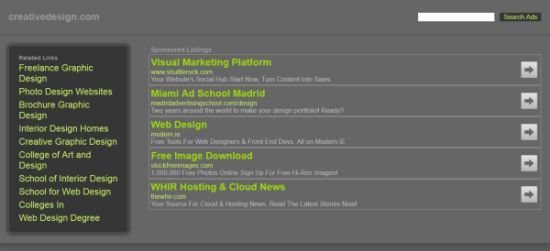 You might find:
A fully developed site. It can be the site of a large corporation that has probably registered their name on .com, .biz, .net, .co and more in order to protect their brand. Plus, if it's a trademark, you can forget about it. Even if it's a smaller business that's already developed an impressive online presence, the possibility of them agreeing to sell their domain name is zero.
A blank page, "404 – not found" message or a "403 – unauthorized" error. What this means is that the owner hasn't put up a site for the domain.
A parked site. In this case, the site is hosted with a registrar that offers money and/or commissions in return for advertising. So the site doesn't have original content, just some advertising links or a banner and possibly a phrase like "This domain is for sale. Please contact…". Find out more about how domain parking works.
A site with little content and a message that mentions sale price like "This domain name is for sale for £5k".
So if the site is parked in some way or has no content on it, it means the owner has not bothered to develop the site for some reason. In most cases, they're either earning cash from advertising other products or services or are domain investors who are registering short, great domains hoping to sell them to someone else who must have that domain.
Regardless, it means that they are up for selling their domain given a reasonable price. So, the next step is to find out who the owner is so you can get in touch.
Step 2: Find out who owns the domain

The first step in trying to get it is to find out who is the current owner. Whois is the best service you can use to find information about the owner, including name and email address.
To run a Whois search, you can either look up the name at the registrar of your choice or go to the who.is for domains like .com, .net, .biz and more. Simply eutype in the full domain name and you will get the domain's public information which usually includes contact details for the registrant.
For other extensions like .de, .in and .uk, you can use the following Whois tools to get that public information:
Domain name extension
Whois Tool
.de domains
http://www.denic.de/en/homepage.html?cHash=3486f26050ac1dc3cbe6f5842dc70494
.at
http://www.nic.at/
.co.il
http://www.isoc.org.il/domains/whois.html
.co.za
http://co.za/
.jp
http://www.nic.ad.jp/
.ch
http://www.nic.ch/reg/index/view.html;jsessionid=w+poN61HuNmgTI0Om8kMKS+z?lid=en
.im
http://www.nic.im/home.mth
.co
http://www.whois.co/whois-gui/
.es
http://www.dominios.es/dominios/en
.in
http://registry.in/WHOIS
.la
http://www.la/e/whois/
.me
http://domain.me/
.mx
http://whois.mx/form.jsf
.pw
http://registry.pw/whois/
.so
http://www.soregistry.so/
.tk
http://www.soregistry.so/

http://www.dot.tk/en/whois.html


.uk
http://www.nominet.org.uk/uk-domain-names/about-domain-names/domain-lookup-whois/whois-tool
TLDs and gTLDs
http://who.is/whois/


There's also the possibility that you'll be stonewalled by a Whois privacy protection service, in which case you won't have access to the owner's information. Instead you will see some generic information belonging to the privacy service provider. In this case, you can try sending an email to the contact address listed there and hope that your message will be forwarded to the owner's email address.
Now, before you get in touch with the site owner, it's important you check the status of domain first so you get a better understanding of how much it's worth. Things like keyword use, search engine ranking, backlinks and traffic can help you measure its value and help you determine just how much you should be paying for it.
Step 3: Research and measure domain value
You need to be very careful when you buy a pre-owned domain name. It's just like when you want to buy a used car – you get it checked, find out if it has ever been involved in an accident etc. It's the same with pre-owned domain which is why it's important to look at the history.
Your perfect domain might've been penalised by Google, flagged for spam, malware, hacking or other illegal activities. When you get that web address, it comes with all the baggage which means you'll get everything it stands for – good and bad.
There's actually a great video from Google's Matt Cutts with things to look at when researching a domain to buy. Here are his top tips:
Search for the domain name without the .com and see what people wrote about it. Has it been criticised for being spammy or doing anything illegal? Does it have a good or a bad reputation?
Ask the owner to see Google Webmaster Tools and look for messages and stats there.
Ask the owner to see Google Analytics to get some insights on traffic and more.
Here is the video:
If you want to go back in time and get a historical record of how the site looked in the past, go to archive.org and type in the web address in the WayBackMachine search box.

Next you will be able to browse through snapshots of the site dating between its registration up to just a few days ago.
Here's how IMDb.com looked in 2001: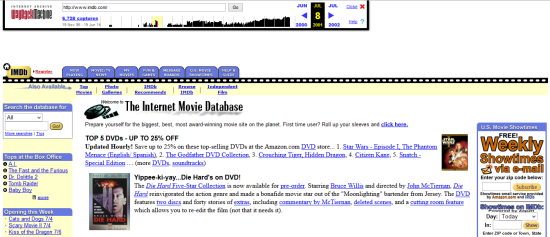 It's extremely useful as it lets you see exactly what that domain looked like and how it was used since it was registered.
Another thing to look at is the site's backlink profile to ensure the sites linking to the domain you want to buy are high quality, authority sites and not spammy content farms that can harm the site's reputation. To find out which links Google considers to be "bad backlinks", check out Google's Webmaster Guidelines on Link Schemes.
There are tons of tools you can use to check the backlinks profile, such as: Rank Signals, Backlink Watch, WebMeUp (free) or Open Site Explorer, MajesticSEO, AHrefs (paid). These tools can give you more details on the sites linking to the domain, including anchor text, PageRank, quality of backlinks and more.
This background check can also help you figure out if the domain has been penalised by Google as in many cases it's bad backlinks that get a site penalised. If you discover the site has indeed been penalised, you might want to reconsider buying it or be prepared to work hard at getting it fixed. Here's a comprehensive guide that explains how to check if a website has been penalised by Google, reasons why and how to recover.
Other important factors to help you determine the value of the domain:
Is it a.com, .co.uk, .ukor any other popular TLD?
Is it short, catchy and memorable? Shorter names are more convenient for users, as they're faster to type and less prone to typing errors.
Is it easy to pronounce?
Does it include a keyword? Does the domain have the keyword at the beginning? This could make it more pricy.
How old is it? A long-established domain tends to be more valuable.
What is the selling price of similar domains?
The price can also vary depending on Google's latest ranking factors, for example. If the domain is old, has quality backlinks and a good reputation over time, then expect to pay more. So you need to do your homework and take all these things into consideration when negotiating the price. Of course, you can also use a tool like Estibot to get an idea on how much a domain would cost.
Step 4: Make an offer to buy it
After you've done your research and evaluated the name, the next step is making contact and negotiating a price. This is the time to put your negotiation skills to good use because it's the only way you can get a fair price for that perfect web address.
Here are some useful negotiation tips to ensure you get a fair price:
Get to know the seller first. Rather than contacting the owner with an immediate offer, use the first conversation to determine how important the domain name is to the seller – are they planning to develop a business or are they just sitting on it because they think it has value?
Ask for a price range rather than a specific price. This way you know roughly what the seller is expecting. Sellers are often uncomfortable giving a specific price up front and a price range indicates there's room for negotiation.
Be prepared to bargain hard without giving away just how badly you want or need that particular domain. At the same time…
Prepare to compromise, especially if you're dealing with a seller who's holding the name as an investment.
Don't react emotionally if the seller's first offer is too high. Make a counter-offer that's closer to your original price. Remember that you and the seller both are motivated to close the deal.
Be reasonable and polite. It's not uncommon for the first round of negotiations to fail but don't close that door just yet. Make sure you're polite and leave the contact amicable. In the meantime, the seller might receive other offers which aren't as good as the one you made and may come back to you in a few weeks or months wanting to reopen negotiations.
If, in the end, you manage to settle on a fair price, you'll want to ensure that the domain is transferred to you and that the seller receives his payment. Following is a quick checklist:
Summarise the specific terms of the deal in an email. For high value domains, it's best to execute an acquisition agreement to make the deal legally binding.
Decide on a method of payment. Using an escrow service is a good idea as the money will only be transferred to the seller when the domain control is transferred to you. In addition, the seller will be given complete instructions on how and when to transfer the control of the domain.
Transfer the domain. The transfer process depends on the registrar of your choice, but it usually includes the following steps:
Open an account with the registrar (if you don't already have one)
At the same time, ask the seller to unlock the domain from his account with his registrar and then also provide you with the authorisation code
Next, go to your registrar and add the domain name you wish to transfer to your account.
Confirm the transfer and finish the transaction so the seller can receive his payment.
If you need to, once the purchase is complete you can then move that domain to 123 Reg. Our domain transfer service is free for selected extensions. (Note: This is a different process to transferring a domain from one owner to another.)
Step 5: What if negotiations fail?
If you weren't able to get in touch with the site owner, if he was unresponsive or has set a price that was just too high, your last option is to just wait and see if the domain expires (hoping and praying that the current owner won't renew it) and then try to register it yourself. But who's got the time or patience to monitor it constantly?
A good option would be to use a domain backordering service that monitors the web address for you and tries to register it for you as soon as it becomes available. Backordering a domain can even cost you less than buying it outright or in auction. However, the downside is that you can't be sure when you'll get your hands on it – or if you'll get it at all.
Just make sure that if you use this service, you choose a registrar that will only charge you if they're successful in registering the domain for you, like 123-reg does, and not as soon as you request it.
In conclusion
Just because a domain is taken that doesn't mean it's completely out of reach. If you're patient and are willing to pay a little extra, you just might end up with your perfect domain after all.
But if you need a domain urgently, use the 123-reg domain name search tool to find out what you can buy today.
Have you ever bought a pre-owned domain? Got any useful tips to share?