How to get a domain name for free
If you're looking to get a domain name for free, use a domain registrar that includes a free domain offer with their hosting and website builder plans. Just buy a product with such an offer and claim your free domain name.
For example, 123 Reg's Standard web hosting plan starts at £3.99 a month and includes one free domain name. (The Pro plan comes with two free domain names, and the Ultimate plan has three free domains.)
What should I look out for when getting a free domain name?
Here are a few tips to help you make the most of your free domain:
1) Check how long you're getting the free domain for
Most free domain offers last a year. If you want to keep using your domain name after that, you'll need to renew it and this will incur a charge.
2) Check what domain extensions are available as part of the free offer
If you want to register a .com domain for free, make sure that .com domains are included as part of the offer you're considering.
At 123 Reg, you can usually choose from a free com, .co.uk, .uk, .org.uk or .me uk domain. (This range may change depending on offers etc, so make sure you check the details on our product pages.)
3) Check if the domain you want to get for free is available to register
If someone has already registered the domain name you want, you won't be able to get it for free.
Before you start the process of buying a product that includes a free domain name, make sure the domain you want is available to register.
If someone already owns it, you'll have to come up with an alternative option. This guide will help you choose the right domain name.
4) Check future costs
As already mentioned, you'll have to renew your domain after the free offer expires. Make sure you know how much you'll need to pay to keep it. Costs vary depending on which domain extension you're using.
Pro tip: You can renew your domain name for a period of up to ten years. That means if you know you'll be using a domain for a long period of time, you can go for an extended renewal rather than having to do it annually.
5) Make sure you get your free domain name from a reputable company
Getting your free domain name along with a hosting package should be a long-term commitment, so you should make sure you pick a company with a good reputation.
Make sure you check what people are saying on review sites such as Trustpilot. Pay particular attention to what people say about customer service and reliability.
For example, at the time of writing, 123 Reg has a Trustpilot score of 4.7.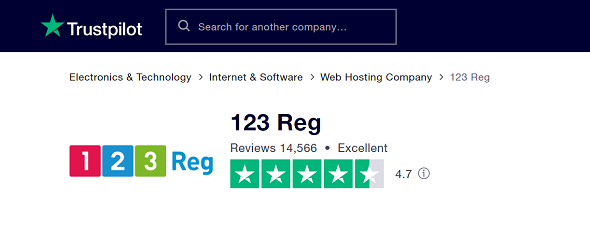 Summing up
Getting a domain name for free is a great first step when getting online and it can help you reduce costs while you're setting things up.
If you're ready to go, you can use our domain search tool to see if a particular name is available, or buy a web hosting package which includes a free domain name.