Six vital metrics for measuring the success of your SEO
If you're new to search engine optimisation (SEO) or in the early stages of optimising your website, it may be tempting to latch on to metrics that are either misleading or not as important as they once were. So, how do you know that your SEO strategy is a winner? How do you know what's truly important to focus on in order to succeed?
In this post, we'll be looking at the six vital metrics that you need to look at to determine if your SEO strategy is really paying off. We'll also show you how to use our Search Engine Optimiser tool to make the necessary changes to your site and improve your SEO.
1. Changes in organic traffic
The metric most people obsess over is traffic – specifically the total number of visits to a website. This is a good metric to look at for a number of reasons: it's very straightforward and easy to understand. Plus, it's a good indicator of how effective your SEO strategy is as you can easily see if the traffic coming to your site via the search engines is growing, stagnating, or declining.
For example, if you experience a huge traffic spike after publishing a guest post on a popular blog, this is a clear indicator that you should be doing more of the same. However, if you're witnessing a steady, long-term traffic decline, this tells you that you're doing something wrong, and that you need to find out what it is and fix it quickly.
General traffic stats will only reveal so much, but if you're looking for a quick snapshot of your site's overall health, this is a good place to start.
If you have a Google Analytics account, you can quickly review your site's organic traffic by going to Acquisition -> All Traffic -> Source/ Medium.

If you're not familiar with Google Analytics, make sure you read our beginner's guide to Google Analytics to learn how to sign up for a free account and get more useful information on what else you can find out about your site's performance.
2. Engagement
It's not just about how much traffic your site receives, but also about the quality of the traffic. It doesn't matter if you're getting heaps of traffic if your visitors aren't interacting with your content after arriving on your site.
When measuring the quality of your traffic, you should look at metrics like:
Pages per visit
Time spent on site
Bounce rate
New versus returning
These key metrics will let you know if visitors find your content interesting as well as what type of content they consume when they land on your site. Having a deeper understanding of how people interact with your content can help you focus on the areas of your site that need improvement.
For example, if the number of pages viewed per visit is low, if the average time visitors spend on your site is also low, while the bounce rate is high, this may be caused by a poor page that either lacks engaging content or the information people are looking for. Or maybe the keywords you're using to optimise your content aren't attracting the right visitors to your site. In this case you might want to review your keywords and see if maybe you need to switch to more specific, long-tail keywords.
An increase in bounce rate can also reveal other information related to the health of your SEO strategy, including slow load times, broken links, bad first impression (poor website design), and badly targeted keywords. Find out more about bounce rate, why it matters, and ways to increase visitor engagement so they spend more time on your site.
The new vs returning metric is also very important to monitor as it tells you if visitors are becoming more engaged and returning more often. If they're not, it means you're giving them no good reason to come back, which is something you need to work on.
But engagement doesn't refer only to users landing on your site and navigating through various pages. It's also about how users see your site in search engine result pages. They might see your site after they perform a search on Google and decide not to click on it because they feel your title doesn't resonate with what they need or because your extremely long meta description got cut off and so they didn't get to read all about what makes your products or services special.
The 123-reg Search Engine Optimiser tool scans your website continuously and lets you know if you have pages with missing or duplicate titles and descriptions or if the meta data is too short and not descriptive enough or if it's too long, which means it'll get cut off in search engine results pages. The tool makes it easier to spot problems without you having to check every page manually.
3. Changes in referral traffic
Referral traffic shows you how many visitors come from other sites – either because they linked to your content or because you wrote a guest post. When quality sites link to your content regularly this can help to increase your authority and rank higher in search engines too. Lots of links pointing your way shows that you are doing a great job at producing quality content.
When reviewing your SEO, look at your referral traffic to see if you've gained or lost links, and whether the links pointing to your site are driving quality traffic. Log in to your Google Analytics account and go to Acquisition -> All traffic -> Channels. Then click on Referrals to get more detailed information on the sites linking to yours.
If you notice a significant decrease in referral traffic you need to investigate further and determine whether:
You've lost links
The sites linking to yours have moved to a new domain or have made design changes that might be affecting the number of clicks your site gets
However, if the traffic from external sites is increasing, find out which sites are sending the most amount of visitors and see what else you can do to get even more traffic from those sources.
Use the Search Engine Optimiser to see which websites link to you but don't yet appear in the Analytics Referrals list as they're not sending you any traffic yet. Take advantage of this information to contact the website owner and ask them to link to a more relevant page on your site that will get the traffic.
The tool also tells you where your competitors are getting links from, which is extremely valuable as you can use this list to pitch your own content and see if they're interested in linking to you.
4. Keyword rankings
Rankings refer to where your site is located on the search engine results page when people run a search for your brand name or one of your main keywords. Rankings are important because over 70% of searchers never move beyond the first page. In addition, on the first page, the first five results account for 67.60% of all the clicks while the results from six to ten account for only 3.73%.
[Tweet "Over 70% of searchers never move beyond the first page."]
In simple words, if your rankings go down, you will lose traffic. To measure the success of your optimisation efforts take a closer look the following:
# of keywords ranking on page one
# of keywords ranking on pages 1-3
Average rank of your keywords
In our beginner's guide to SEO tools you can find a few tools that you can use to quickly check rankings. You can also run a few searches on Google for your main keywords and see where you stand or, even simpler, add your keywords to Search Engine Optimiser and get updated ranks every day.
5. Conversion rate by search query
Conversions are the endgame, meaning the action that you want users to take upon visiting your site. Depending on your goals, these could be: making a purchase, signing up for a newsletter, downloading a PDF, filling out a contact form and more.
Now, you need to find out which of your keywords are not only driving the most amount of traffic but also leading to conversion. So, for example, if your site ranks #4 for "plumbing services in London", you might want to improve this position to get even more visitors to your site and increase conversions.
Look at the landing pages on your site that are optimised for certain high-ranking keywords that are bringing lots of traffic, and see how you can improve those pages. You can try making the copy more engaging or A/B testing your call-to-action to entice more people to take action. Read this post to for more ideas on how to boost conversion rates on your site.
One important thing to keep in mind when making changes to your site is to never optimise multiple pages for the same exact keyword. Why? Because pages that are optimised for the same keyword will be competing against each other in search engine results. You already have other businesses you're competing against, so you definitely don't want to become your own competition. In the Search Engine Optimiser tool you get to assign keywords per pages but the great thing is that you can't assign the same one to more than one page.
6. Changes in mobile traffic
With Google giving even more priority to mobile friendly sites in mobile search results, it's critical to know what percentage of your traffic is from mobile. Log in to your Google Analytics account and then go to Audience -> Mobile -> Overview to find out more about your mobile, tablet and desktop traffic.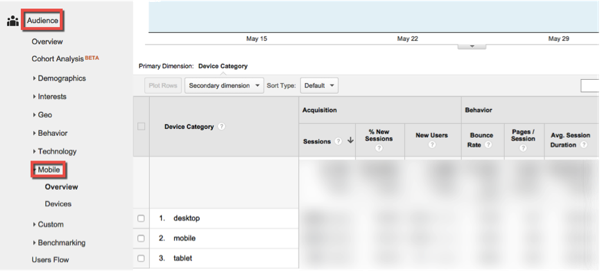 If you notice that a big percentage of your traffic is from mobile, or if your mobile traffic is increasing significantly – you need to take steps to make your site mobile friendly. Find out how you can get a mobile friendly site.
Wrapping up
These are some of the most important metrics to look at if you want to see how effective your SEO strategy is. Using these metrics you can take an honest look at what works and what might need improvement not just in your SEO strategy but across your entire online marketing mix. Combine the knowledge you get from Google Analytics with the recommendations you receive from Search Engine Optimiser and you'll be one step closer to success.
Which other metrics do you look at when reviewing your site's performance and the results of your SEO strategy?