The biggest barrier facing social media advocates trying to convince CEOs and senior managers of the benefits to be had from social media is that too many they are preaching too think they 'get it', but don't even know the half of it.
Social media isn't one person's role, it isn't a separate department, it is the way modern people do modern business. That means it needs to be part of each and every role in the business and each and every department in the business too. Just the sheer possibilities and options makes it impossible for even a global company to be covering all bases, that's how large social media is.
This great infographic from BuddyMedia shows just why covering it all is impossible and why business chiefs should be better educated as to the possibilities social media offers. It's not just networks; it's apps, it's data sorting, targeted advertising, analytics, curation and more.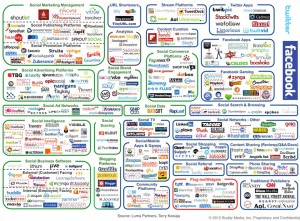 So this Friday afternoon, bookmark this post. Then next time somebody jokes about the simplicity of social media, or the lack of 'reality' you can print this off and show them that social media is more than just some retweets and likes.