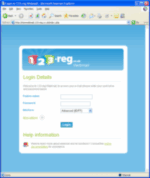 As a special Christmas treat, we've decided to give 123-reg customers who read this blog a sneak preview of our exciting new webmail system.
It's fully functional, so you can use it to send and receive email and any settings that you configure should remain when we do the full launch in the new year.
Please check it out at http://webmail.123-reg.co.uk. You need to log in with your 123-reg popbox username and password.
Let us know what you think of the new features by leaving a comment here, or dropping us a line at listentomenow@123-reg.co.uk.
Merry Christmas!