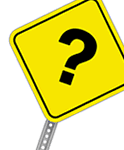 As it's 2009 (a New Year and all that) we've decided to introduce a new feature to the blog.
We're going to run a regular Q&A piece, offering advice about building websites, running a business, choosing domain names … all the usual stuff we cover on here.
But this time we're inviting you to send us your questions. Each time round we'll pick some of the most interesting and post the answers up right here.
Between us we have an awful lot of experience of building and running websites, so it's your chance to get your questions answered by some experts.
It could be something that's been bugging you for months, a practical problem you encountered that day or just something you've been idly wondering about.
We can't promise to answer all the questions we receive, but we'll certainly pick a few of the most interesting and publish the best answers we can, right here. It's sort of like 'Dear Deirdre' but for internet stuff.
For the first go, please send us your queries on search engine optimisation (SEO). Maybe you want to know how to decide which keywords to target, or how to measure your site's current performance.
Whatever it is, you can pose your question right now. Just leave a comment on this post. Remember, it can be anything at all to do with SEO.
Once we've received a few queries, we'll publish answers to the most interesting ones. So hit the comment link now.